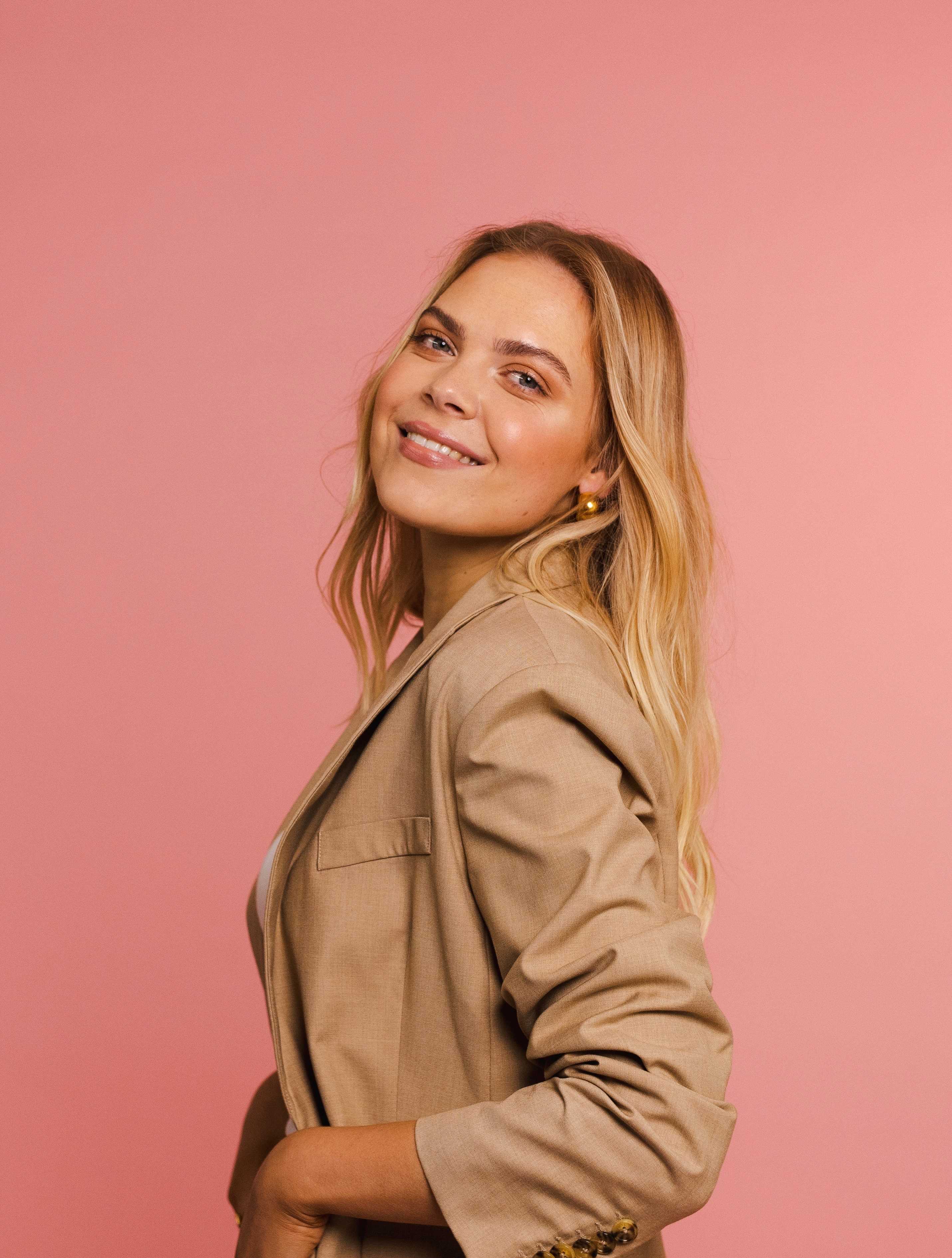 This week I chat to the gorgeous Millie Ford, who used to work at Social Diary before she became a social media superstar!

Millie tells us how she made the leap from PR to full-time content creator, scooping up TikTok Creator of the Year and becoming one of the most successful TikTok personalities in the country - and now, a budding actor ready to take on the big screen.
Q.
Give us a snapshot of your career to date?
My first job out of uni was right here at Social Diary! I used to put Industry Profiles together for the newsletter so this is a full circle moment for me.

I then moved to MTV Australia to head up their social media which was where I had my first taste of TikTok. In 2019 after convincing our General Manager that it was the next big thing in Australia, I started to grow the business account and also made my own profile where I'd post silly bite-sized content.
Q.
What was the 'moment', or single piece of content that changed everything for you? Did you ever imagine you would get this far?
Nothing really took off until February 2021 when I posted my first POV-format video and my account started growing rapidly.

My first POV video was where you bump into that condescending girl from high school who still thinks she's better than you. It really was the catalyst because it kicked off what would end up being my niche. Up until that point I was kind of blindly making random content with no direction, so after that blew up I realised it was something I could tap into more.

The second pivotal piece of content was POV: the guest speaker who comes to your school to talk about bullying - which was my first video to reach 1 million likes. I'd been wondering if I was ready to quit my job to pursue content creation full time. I posted the video, gained about 200k followers in a week and realised that was my sign!

Then over the past 2 and a half years I threw myself into content and really just soaked up everything I could, before realising I really want to pursue acting. This journey has been absolutely wild - some days I almost feel like I'm in a dream!

To be honest I did actually dream about this happening to me since I was a little girl! I think when you're younger you have hopes and dreams but you forget they could legitimately become a reality. I believed I could do it but never in a million years did I ever think it would *actually* happen!
Q.
Where do you get your ideas from?
Literally everywhere. I will leave my house and see the most random and unexpected thing that sparks a thought, a nostalgic memory, a cliche - it could be anything! I actually don't remember the last time I left the house and didn't think of an idea. It's honestly become second nature for me to have the inspiration part of my brain switched on - I'm subconsciously always ready to find inspiration in everyday people and situations whether they are exciting or mundane. Sometimes I rudely have to whip out my phone mid conversation and write the idea down in my notes otherwise I will 100% forget it!
Q.
I absolutely love that all your content is original, it really shows how crazily creative you are. What do you think makes your content stand out?
As the creator, I never really know what people particularly like about it but I try to stay as authentic as possible and always listen to my gut. Also not being afraid to try new things - if no one else has done it before, it's not necessarily because it's a bad idea - maybe it's because no one has been brave enough to try it yet! You don't always have to follow trends and the crowd, just make content that you'd enjoy seeing on your feed.
Q.
Who's your favourite character that you play?
This might sound strange but I LOVE playing Bronwyn - the breathy and quirky old art teacher who's so obsessed with her job that she will literally take over the kid's artworks. I thinks it's because that character for me was the first one to really push me out of my comfort zone. I was dressing up as ugly as I possibly could, making the worst outfit possible from items in the back of my wardrobe then plastering it on the internet for everyone to see. I remember feeling a little nervous pressing 'upload' but it was honestly so liberating once I put that version of myself out there.

I felt like any part of me that was trying to look good in those skits just left my body that day. I just looked at it and said yep, that's literally me in a video, take it or leave it! It just embodied my style of humour and what I'm like with my friends and family. My friends are always like yep this has been you ever since high school, so it's nice to let the rest of the world see it too!
Q.
My art teacher at school was literally Bronwyn, so she really makes me LOL!
When brands approach your agency to work with you, do they present a creative concept or do you come up with it – how collaborative is it?
Yes the majority of brands will send through a brief with an outline of the campaign including the objective and key messaging. Every creator is different but I really like to take the lead with the creative process as I know what works with my audience and like to keep as true to me as possible. Trust between the brand and the creator is a huge part of the process.

In my experience, the brands that have let go and given me permission to take creative control literally always have more successful campaigns. And of course the brand can make suggestions and request edits, likewise they know their brand better than me so it's about finding a balance so that everybody wins!
Q.
Do you run different content on TikTok and Instagram, and if so – why?
TikTok is where I started and it's my largest following so I almost always debut every video on there first. Pretty much all my existing content should be on TikTok (aside from some paid ads on Instagram).

But as my Instagram demo is slightly older, I know some videos won't cut through as well so I'm a bit more selective about what I post on there. In some ways I feel a lot more connected to my Instagram audience because I'm often chatting on my stories and they love to interact with those to get to know the real Millie. I would say I'm more active on Instagram because Stories really help build that community!
Q.
Without playing favourites, what are some of your all-time fave partnerships you've done?
The one with the most hits was a McDonalds ad about mums going in to proudly see and take photos of their kid working at their new job and how disgustingly embarrassing it is! It organically reached 5.8 million TikTok views and 642.3 thousand likes.

The one I had the most fun with was when I got to go on holiday to Thailand with a friend to film a Jetstar ad!
Q.
Please tell me more about your Austin Butler and Joe Jonas moments!
I literally walked up to Austin Butler at his Elvis premiere and said hi! His team and security guards randomly weren't around him so I really thought 'yolo' now's my chance.

And I was invited to the Jonas Brothers concert in New York where we got to meet all the brothers! They were just mingling with us before the concert. Both Joe and Austin had no idea I was going to come up and speak to them but I just love that they both rolled with it!
Q.
What do you love about your job?
Soo many things! Apart from the ridiculously incredible doors it has opened for me, meeting amazing people and essentially getting to make people laugh for a living (oh and meeting and partying with followers on drunken nights out lol).

I love that my job has shown me that authenticity wins. I've never ever felt more authentically myself and I've also never been happier. And lastly, this job helped me find my passion for acting again and gave me the confidence to pursue it!
Q.
What's the downside or the hard bits people might not realise?
I think like any job there are down sides that no one would see or truly understand unless they've been in that role. Most of the glamorous parts of the job are what the public sees: the events, the gifting, the recognition. And yes these are super fun perks!

But of course there's days where I don't enjoy it and have to just push through. For example, you can't see the constant stream of head noise around being in the public eye unless we choose to voice it. It's things like constantly overthinking how you appear in real life, stressing about keeping up and staying relevant, wondering if your content is still entertaining or should you try something new, the volatile nature of the industry, like is this whole social media thing just going to collapse tomorrow and we lose it all?

A lot of the thinking around this stuff I have tackled but it does pop up every now and then and from what I've heard it never goes away! You just have to choose to ignore that little voice.
Q.
Winning a role in Bump was a game changer – will we be seeing you acting in film and TV in the future?
Yes, Bump was a career milestone for sure! Getting to be on set with the cast and crew and seeing how it all works was awesome in itself but then also getting to actually be in a scene was insane. And I have actually just signed to an acting agency, Creative Rep! Yay! And while I can't say too much right now, you best believe you will be seeing this face on screens near you in the future - I'll make sure of it! Oh and if you happen to be a casting director or producer reading this right now, pleass let me audition for you!