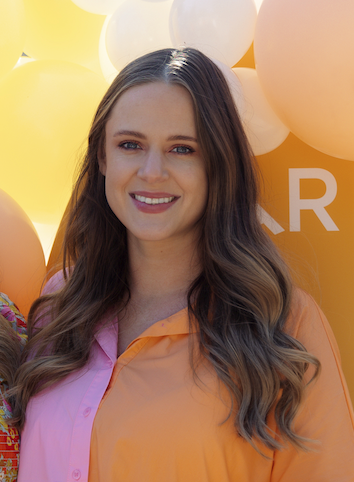 This week I chat to Amber Paul of Influencer Updates AU, the hugely popular page that pulls together all the hottest influencer news - the good, the bad and the ugly.

I really enjoy Amber's content, particularly her weekly lives where she answers any questions people have about the Aussie influencer world which she has encyclopedic knowledge of. I love her calm, measured and non-judgemental delivery.

Amber tells me how it took off to become her full time job, her thoughts on influencers behaving badly, the worst behaviour of all that has resulted in one quitting for good, and more. x Tiff
Q.
Why did you start Influencer Updates – what were you doing before?
I started Influencer Updates AU on TikTok back in November 2020. I was on maternity leave from my job as an accountant with my first baby who was 4 months old. We were 7 months into lockdowns and I had plenty of free time. I have always loved celebrity culture including Australian influencers but none of my friends cared about anything I had to say! And there weren't many people talking about them online either. So my sister Kayla, the owner of Tribe Skincare, suggested I start a TikTok page where I can talk about the interesting things that Australian Influencers are doing.
Q.
Has your 'Close Friends' feature changed the game for you?
Yes, the Close Friends paywall has followers who pay $20 for 2023 to get access to daily Instagram stories with all the updates and exclusive Q&As. The main attraction has been blind items where people send in interesting stories about influencers, but I blank out the name. Close Friends get the answers of course.

There are about 2,500 people who have signed up and the feedback has been so positive. Everyone loves the updates and I love having a community of people who love Australian influencers! Running Influencer Updates AU is my job and the income allows me to stay at home with my two children aged 1 & 3.
Q.
Did it build over time or did it take off, did anything go viral?
My first post was about Ashley Mescia debuting her breast augmentation surgery and within a few hours it had over 50,000 views. I certainly didn't expect to find so many people that were interested in Australian Influencers. These people are famous in many ways but not famous enough for the mainstream news.

The first viral video, which currently has 1.8m views, was just one month later and was about Mikaela Testa and Atis Paul moving into a new house on the Gold Coast. I surprisingly hadn't heard of them at the time but was receiving a lot of messages from people asking me to report on it.

My TikTok following grew to about 70,000 within 6 months and then in July 2021 I started Instagram. That's when news outlets started picking up lots of the stories I was reporting on. I have mostly neglected TikTok in favour of Instagram since then, and have built up to 60,000 Instagram followers in the last 2 years.
Q.
Do you think it's important for the industry to call out influencers behaving badly and why?
I have always maintained that I am not an account designed to call out influencers or hold them to account. Sticking to updates/facts has always been important to me. Reporting on drama is definitely what gets the most engagement but I am not interested in reporting every time an influencer parks in an accessible carpark, doesn't strap their child into a carseat properly or films themselves whilst driving. There are other accounts for that.

We all make mistakes in life and it's just that influencers mistakes are out there for us all to see, judge and criticise. It is important that they learn from their mistakes but we all do too. I also think it is important that we don't attack influencers for making mistakes. An example is that recently Sopha Dopha went to address up party dressed as a stingray and her friend was dressing as Steve Irwin. The internet was appalled that Sopha was seen to be mocking the death of Steve Irwin. Sopha apologised and said that she had learned from her mistake and so did us as viewers of her content.

On the flip side, when Ruby Tuesday Matthews recently came under scrutiny for a campaign she did for her business Robey. She was accused of sexualising her 5 year old son who she used a model in the photoshoot, and she didn't apologise - she doubled down. My audience were initially outraged but eventually got over it and moved on.
Q.
What are the most popular positive influencer posts that end up on your page?
Relationships are the most popular posts on my account. Everyone wants to know which influencers are friends and of course, which influencers aren't talking anymore. My most asked question since I started the account nearly 3 years ago, and still to this day, is 'Why aren't Ashy Bines and Sammy Leo friends anymore?"

In addition to that, we all love a new relationship, engagement, wedding and of course a breakup. Updates on Tammy Hembrow's love-life are easily the most sought after. Influencers pregnancy & baby name announcements are also super popular.

I also personally love a business update. Whether it be an influencer starting a new business or closing one down or even behind the scenes of the collaboration that influencers often do with big brands.
Q.
What do you think is the all-time worst you've seen?
The worst mistake I have seen since running this account was in April this year when Emma Claiir, who had given birth just days earlier, debuted her new podcast which contained a story about her childhood in which she explained how she killed a cat by swinging it around. She further went on to explain that she also killed her best friend's cat. Emma was immediately called out by listeners who explained to her that the story is not appropriate.

The mistake was in how Emma responded. Rather than taking some time to think about the feedback, Emma quickly doubled down saying the segment was meant as light humour and that she was "sorry not sorry." Emma quickly lost many partnerships she had with big brands including ModelCo. Three months on, Emma has now deleted her account and left social media. Alot of influencers go on a 'break', but I've never seen one leave before.
Q.
Where do you get your content from?
Most of the content I post about is sent in by followers or content I find myself through viewing Australian influencer's content. Other sources are Facebook groups and anonymous online forums.
Q.
Do you feel like it's different to gossip columns given that people can't ever be sure what they're reading is true, compared to reposting what influencers are posting directly themselves?
Yes, I am very conscious of only providing facts and reposting content that influencers have posted themselves. If I find out an influencer is pregnant, I'm not going to post that until the influencer says it themselves.

The point of my account is to summarise the best stuff that is happening in influencer world each day so that my followers don't have to be spending their time looking for news. In the last 24 hours I have reported that Al Perkins has stepped down as co-host of his podcast "Back to Reality,'' Leila Stead has started a Go Fund Me account for her breast explant surgery, Em Davies has closed down her clothing brand & Lauren Curtis's fiancé has been diagnosed with cholangitis: a serious infection of the livers bile ducts.
Q.
Tell us your thoughts on hate-watching and how prevalent it is?
This account was created because I love influencers and pop-culture but I have since discovered that hate-watching is extremely prevalent and very toxic. I often get messages from followers telling me why they can't stand a particular influencer or even screenshots of horrible messages they have sent to influencers. The way I see it is that nobody is forcing you to follow someone, so just don't. What motivates one follower is going to offend another, it is not an influencer's job to please everyone.
Q.
Do you think there are influencers who have as many hate-watchers as they do fans?
Absolutely. Whenever there is a drama, an influencer's follower account increases significantly. Recently Henny Moody made a motivational video explaining that the reason you don't have the dream life that influencers do is because YOU ARE LAZY. The internet was outraged at her lack of empathy and failure to recognise her privilege. But it put her in the spotlight and her follower count has increased since.

Additionally I think in general people love to hate influencers in general as they seemingly have a lot of money for doing very little.
Q.
How much of your time does it take up each week?
A few months ago it got to a point where I was spending 5-8 hours a day on the Instagram account. I was posting both grid posts and stories to Instagram daily and getting hundreds of comments and DMs. I was burning out and trying to think what my next step was going to be when I was issued with a legal letter regarding comments on my posts that were allegedly defamatory.

Since then I have minimised the amount of public content I am posting and instead put the majority of it behind a paywall (that I already had in place for extra daily content). I also go LIVE every Friday night at 8:30pm where I do a 5 minute summary of the main news stories for the week and then host a Q&A session where viewers can comment their questions and I answer them for everyone.
Q.
Who are your favourite influencers?
It changes weekly depending on who is in the spotlight at the time. My long-time favourite is Georgie Stevenson who hosts a self-help podcast, sells self-help courses & owns a natural supplement brand. She's an influencer turned business-woman.

The crowd favourite would be Brittney Saunders who is similar to Georgie in that she is an influencer turned business-woman who owns fashion brand, Fayt, as well as countless other businesses.
Q.
Follow Influencer Updates AU: