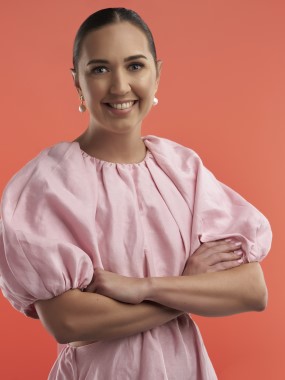 Q.
Q. Describe your journey in a nutshell (where you started, when you started, how many staff, and your role):
It's been a wild ride! After interning with Red PR (now The Red Republic), I landed a graduate job with them that kick started my career in PR. I stayed at the agency for five years, before a six-month stint in New Zealand, working for a fashion label that was stocked in some of the country's biggest retailers.

In 2016, I moved back to Australia and started my journey at Sabio (formerly P4 Group) as an Account Manager, which is when my career and ambition really came to life. I've now been with the agency for seven and half years and am proud to have been recently appointed General Manager.
Q.
Q. Tell us about your new employee policies introduced this week and what inspired you to implement them?
At Sabio, we place significant importance on our people and have always felt strongly about nurturing an environment that allows our team to be their best selves at work. While the growth in
appetite for an enhanced work-from-offering became greater post-pandemic, we wanted to take this further and look more holistically at work-life balance and how we could support our team to have healthier relationships with work.

With that in mind, we enhanced our Work-life Balance policy, which offers the following:
• 9-day working fortnight for all FTEs
• Enhanced work from home
• Flexible working hours spanning eight working hours either side of core operating hours of
9:30am – 3:30pm
• Paid birthday leave

At the same time, we reviewed our approach to women's health and developed a 'Women's Health, and Paid Maternity and Parental' policy to provide the team with the support they need when planning for and raising a family, alongside support for key milestones along the way. This also includes enhanced compassionate leave and reduced working days (no questions asked) while undergoing fertility treatment, menopause or other circumstances.

These policies reflect our passion for creating an environment that fosters a positive work-life balance, without compromising on the exceptional client servicing we provide – rather amplifying our team spirit and culture.
Q.
Q. What do you think your business and your team excel at (areas of expertise)?
Sabio's USP is undoubtedly our people. Working with us means you have access to unique talent. A team of people that are constantly designing, listening, adapting, learning, and growing. Our ability to deliver integrated campaigns that align with broader business objectives and positively impact the bottom line is one of our greatest strengths.
Q.
Q. What brands are you currently working with?
Sabio is lucky enough to work with a broad range of client industries, some of which include: The Sunday Mail Transurban Bridge to Brisbane, Multicultural Australia, Tourism and Events Queensland, Outback Queensland Tourism Association, Gallagher Bassett, Hear and Say, First Voice, Lung Foundation Australia and Aero Defence.
Q.
Q. What's a recent campaign you are super proud of because you either came up with a big creative idea; worked with a minimal budget; or exceeded expectations?
Over the last few years, we've worked closely with Hear and Say, a not-for-profit with a 30-year history of supporting babies and children with hearing loss across Queensland learn to hear, listen and speak. Recently in the driver's seat for their Giving Day campaign, our team executed an exceptionally successful media relations campaign on minimal budget to inspire fundraising. With media directly driving website traffic and donations, our team supported Hear and Say to raise $301,476, affording children with hearing loss access to world-class hearing technology and specialist speech therapy. Thanks to our team's clever campaigns and passion for driving results, our scope has recently extended to support First Voice – the national alliance.
Q.
Q. What are the greatest challenges the industry is currently facing?
Right now, the industry is faced with an exciting challenge – adapting to the new normal in a post-COVID environment. The expectations of our teams have changed and the investment in healthy, happy workplaces is so much more than ping pong tables, bean bags and Friday drinks – employee priorities have changed when it comes to what they value in their employer, and we all have to level up.
Q.
Q. What's your greatest career achievement to date?
My greatest career achievement to date is the workplace we have cultivated at Sabio since rebranding in October last year. I am proud to be a part of an organisation that is creating impact and innovating both internally and for our clients.
Q.
Q. And your worst disaster! (we really want something insightful, crazy, interesting here and how you managed it!)
Very early in my career I had pitched travel deals for an online accommodation provider and somehow left the words 'per night' off one of the deals. As luck would have it, that was the deal that ended up being syndicated across all News Corp mastheads and the client was inundated with people calling to claim this INSANE deal. The biggest disaster of it all was that the client had to honour it, which meant the 'deal' ended up costing them a lot more than expected. On the plus side, we learnt from it and I've been a stickler for the details ever since!
Q.
Q, What's the best (and unusual) personal tip of yours that young PRs should know when embarking on a career?
Ask the 'silly' question! I can't stress this enough. If it's on your mind, it's probably on the mind of someone else who is also hesitating to ask it, so you'll be doing yourself (and others) a favour.
Q.
Q. What's next for you & the business?
We are excited to continue to build on the brand we have created at Sabio throughout 2022, with a particular focus on rolling out internal and external initiatives and programs that showcase just how clever we can be. The best is yet to come!
Q.
Your Socials: (Email / Instagram/Twitter)