Jack Bedwani & Simon Bookalil - New Moon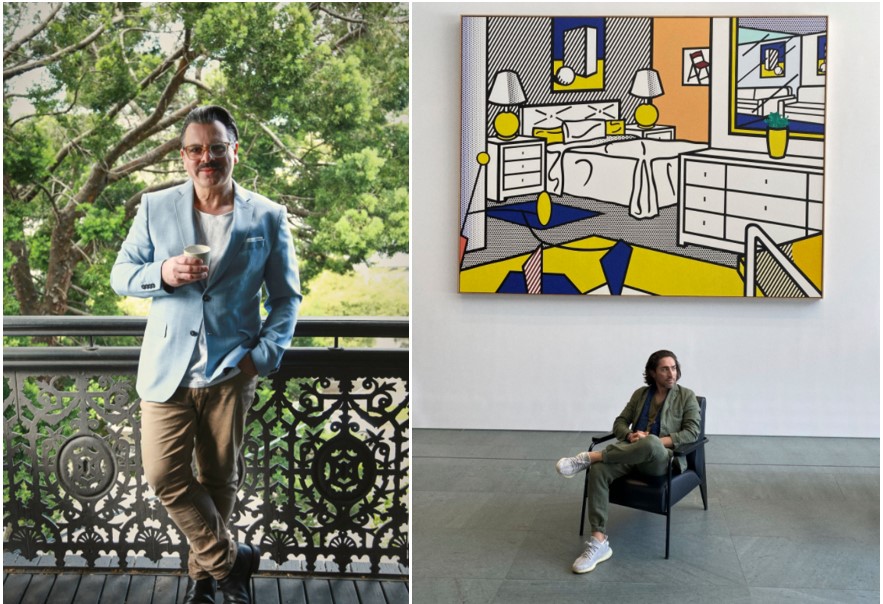 Q.
Q. Describe your journey in a nutshell (where you started, when you started, how many staff, and your role)
SB: I started my career in London, came back after 2 years, and started Spin at 21 with Simon Lock. We grew Spin to 120 people across Sydney, Melbourne and New York before floating it in a joint venture. I was also partner and director of Australian Fashion Week (prior to selling to IMG), Executive Producer of Tropfest, Executive Producer of Bowl-A-Rama, co-founder of Brilliant Films, co-founder of Woofys, co-founder of Bashful, and now at the helm of Bashful Group which has Bashful Agency, Smile Agency, TMCPR and now New-Moon Australia.
Jack and I go way back. A potential future joint-venture was something we've thrown around in casual conversation over recent years. In terms of how it came about, I've watched Jack's work in the market for a few years now and I respect what he's done globally with the New Moon brand. Our conversations about a potential partnership in Australia started to bubble up pretty naturally. BBQ banter has turned to reality.

JB: Ok I'm going to interject here. Simon was my first boss! I was a beyond-green intern when Simon was at the helm of Spin, which was without question one of the most innovative and dynamic agencies in the country. They were setting the pace and I just wanted to be a part of it.
When I started, I was enthusiastic with hustle for days, but with zero experience. It didn't take me long to get hired into a junior role in the event department. Truth be told, I was so junior when I started that I wasn't even in a lot of rooms with Simon. In the 5 years I was there I hustled and worked my way into more senior positions.
Looking back, it was a meritocracy of the best kind: talent talked. I've always been ambitious and Spin's growth trajectory at the time really suited my appetite for it.
I've got enormous respect for what Simon created at Spin. I learned incredible lessons there that laid the foundation of my career. The Spin alumni is full of incredible people who command real clout in our industry both domestically and abroad. That's legacy.

SB: Ha, yes - I love to remind him of this. When I had Spin, Jack came in on work experience and less than 5 years later he was running productions and calling shows at Australian Fashion Week. It was quite impressive. He had natural instincts and no fear.
Jack then took on the world and hasn't stopped since. It's a real pleasure joint venturing in New Moon Australia with him.

JB: Launching New Moon Australia in partnership with Simon really is a 'coming full circle' moment. I still think he's the best of the best, but now we're on more equal footing, except with different strengths. I had a bit of an 'a ha' moment the other day when I realized that he was one of the people that took a chance on me and gave me a seat at the table, all those years ago, but that now we're building a new table together and creating opportunities for another generation of talent to come after us. It's a pretty good feeling.

Q.
Q. What do you think your business and your team excel at (areas of expertise)?
JB: We're a culture-driven agency that future-proofs brands through consulting, content, experiential and influencer marketing. As we find ourselves in this entirely new paradigm of a post-pandemic time, I think of who we are as being a new world experience agency, operating at the intersection of IRL and URL.

The 'special sauce' of New Moon is our ability to capture the zeitgeist in the work that we do. Zeitgeist is a slippery beast. It's never about what's trending, it's bigger than that. It's the pulse of a community, a groundswell you can only feel coming when you're truly paying attention to the micro-changes that happen long before, a shift in sentiment that you know will turn into a loud roar, the shifting of values, clocking a hundred different incarnations of the Next Big Thing. Our knowledge and understanding of the cultural zeitgeist, along with our ability to bring brands into it in meaningful ways that tangibly move the needle for them, that's one of our big superpowers.
Q.
Q. What brands are you currently working with?
JB: Globally, we work with some really incredible brands including Porsche, Pandora, Puma, Moët Henessy, Hotel.com and TAG Heuer.

SB: Locally in Australia, we are super excited to launch with Afterpay and Square as foundation clients. Both are now part of the Square family, although we've actually worked with each of them independently.
We're also partnering with Innovation Bay to design and create an exclusive gathering for leaders in the Australian Technology space. It's known as The Globe and it's a 3-day immersive event for tech founders and investors packed with networking, learning sessions and lots of fun.

So our foundation clients are all really progressive thinkers who are successfully creating and integrating new technologies seamlessly into our lives, which is very much aligned with how we see our work in the intersection of URL and IRL too. As digital brands flourish in a post-Covid world, I believe that they'll look to agencies like New Moon to foster that human interaction and connection.
Q.
Q. What's a recent campaign you are super proud of because you either came up with a big creative idea; worked with a minimal budget; or exceeded expectations?
JB: Oh can I have two!? Here's a couple of my favourites from this last month.
We've had the pleasure of working with TAG Heuer for a few years now––our last event with them was actually our final experiential work the night before NYC went into lockdown in March 2020. So when they approached us for our latest collaboration, a one-night transportive and immersive experience in L.A., we knew we needed to make a splash.
With this event, TAG had a lot to celebrate. They had just unveiled their updated Carrera watch, an iconic three-hand style famously worn by Steve McQueen. They also had a bit of star-studded news to share: Ryan Gosling as the new face of TAG Heuer as their global ambassador for the Carrera. This was his first-ever brand partnership, so we knew that once the news was out it was going to be a really big deal for them.
TAG wanted to activate in a fresh and unexpected way, which meant creating a space that felt wholly their own. We scouted an expansive estate in Beverly Hills that was an unexpected forest oasis away from the urban sprawl of the city. Using this vast scale, we translated the visual identity of the campaign into a tactile, immersive space to transport guests into the one-night world of the brand.
To help guide the brand story, we hand-picked talent who captured the next generation of culture. From the night's host, the multi-talented Jeremy O. Harris (he's one to watch, trust me!) to the electronic brand Desire who set the musical scene, we curated a line-up that was both surprising and thoughtful. Johnny Jewel, the producer for Desire, had an interesting connection to Ryan Gosling, as he soundtracked Ryan Gosling's first film as a director, Drive. (And for anyone that's wondering if Ryan is all that, he really is. He's just as cool as you imagine!)
The other recent campaign that I'm super proud of also went live in October, just a few weeks ago.
We were tapped to ideate a completely original campaign to launch JLO Jennifer Lopez's Fall 2021 collection for Designer Shoe Warehouse. We took cultural cues and insights from the rise and rise of gaming culture, then we saw them and raised them. Instead of collaborating with a gaming brand, we decided to make her own:
HIT PLAY
.
To bring the JLO Jennifer Lopez brand universe to life within an 8-bit analogue style game, we brought in a global team of top-tier creatives, including acclaimed pixel artist Zak Amana and Graz Mulcahy, the multidisciplinary composer known to most as simply GRAZ (now based in LA but originally hailing from Byron Bay!). Zak helped the team conceive a look and feel that captured Jennifer's creative energy. Across three game levels, HIT PLAY tells the story of her life, from her roots to her rise to icon status. Each level is paired brilliantly with tracks scored by GRAZ, inspired by her own cult pop sound.
In Ms Lopez's own words: "It was so much fun creating the game! It's 8-bit so it's got that old-school vibe with a fun and fresh twist. The game levels are inspired by my three favorite cities - New York, Los Angeles and Miami - and incorporate elements of my life into each level. New York is set in the Bronx and shows the subway station I grew up riding, the L.A. level has a movie set and Miami incorporates my favorite escape - the beach. I can't wait for everyone to check it out."
Watching Jennifer's fan base around the world erupt with enthusiasm when it dropped and seeing her getting into the action as it was happening live by retweeting fans top scores, well the months of secret-squirrel work by creatives across the world was all worth it.
Q.
Q. What are the greatest challenges the industry is currently facing?
SB: Social media has had a profound impact, not only on our collective attention spans, its completely disrupted whole industries from magazines to events, photography, PR, you name it. With disruption comes opportunity and that is where New Moon sits. We now live in an era of hyper-immediacy. It's an enormous challenge for brands who endeavor to build a meaningful connection and genuine brand love with their consumers.

JB: Similarly, agencies have equally enormous internal challenges. Simply put, I really believe the agency business model needs to evolve. It's a challenge I'm really passionate about.
One of the core tenants of New Moon is our commitment to being one borderless global agency with multiple offices. Unlike many agencies that represent themselves as being global but actually run each country as its own siloed business, only connected by a shared name, our clients actually get access to our entire international team, regardless of where they are based.

Each of our offices has its own on-the-ground team of senior agency leads that are able to deliver hyper-local, specialized insights that are relevant to their respective market, while being able to draw on the expertise of a wider network of highly experienced in-house strategists, creatives and collaborators that lean, independent agencies wouldn't usually have access to. For example, if you're in NYC you might start the day on a WIP with the London office about a brief that's come in, then
connect with the creative strategists in LA later that day and then jump on a Zoom with the Australian team.
It's certainly not a perfect system, but it's a very nimble, flexible and efficient way of working that delivers world-class results for our clients.
Q.
Q. What's your greatest career achievement to date?
SB: I don't generally reflect, I prefer moving forward. But if you had to pick one thing - it would be Spin. It spawned so many great individuals and companies, all from a chance meeting between myself and Simon Lock.

JB: I think it's our ability to build a business that spans the world in which we can truly live our values.
One of those values is radical humanity. I know it sounds like rhetoric when you first hear it, and putting it out there so blatantly might mean I get a bit of an eye-roll, at least at first. But it's grounded in the understanding that legacy isn't just our output but it's how we get there, what we stand for, and how we show up for each other and in the world.
Radical humanity means we put our people first. It's a paradigm shift that's deeply, radically, inclusive at heart.
It honours our values in prioritizing diversity, inclusion, racial equality, social justice, allyship and representation for everyone in New Moon's orbit, whether they're full-time team members or freelancers and consultants that work with us on a project basis, the creatives who collaborate with us, the talent and content creators who we partner with for brands, and our clients.

We show up with empathy. We're good listeners because that's how we learn more.
We make room for mistakes to happen, because we know the creative process isn't a linear trajectory and sometimes the best ideas require going out on a limb.
Leaning in to radical humanity as one of the core tenants of our agency culture has been quietly revolutionary. Everyone in our business lives it. Our staff are inspired by it and hold us accountable to it on a daily basis. Seeing that in action every day is without a doubt the single thing I'm most proud of in my career to date.
Q.
Q. And your worst disaster!
SB: The float of Spin was a great high and great low. It was 2008, so the world imploded. The stock shot up and then it fell down dramatically. Life lesson learned.

JB: Ok. Well, I'll give you one. It wasn't a mess of my own making, but it was definitely up there with one of the biggest clusterf*&*#&s we've ever had to navigate for a client, so I'd say it definitely fits the bill when I think of the word 'disaster'.
A few years ago, well before the pandemic was even on the horizon, we were tasked to launch a major collaboration between an ultra-famous, household-name and very loved Gen Z popstar and a big fashion brand for whom we've done a lot of previous work with. Sounds like a dream gig, right? Not quite.

We spent a lot of time and effort concepting a really unique way to launch the collection that the popstar and the brand had developed in collaboration together, something that would celebrate the drop both to press and to the talent's enormous fan base (we're talking one of the biggest in the world here, though that's your last clue!) and had landed on a really clever experience that tapped into the cultural appetite of LA at that time.
Months of planning go by and in all of our creative development sessions, we keep asking the client what the talent's responses, input and feedback is on the idea. They are known for being very hands-on with everything they're involved in, so in no way was this someone just slapping their name on a collab and calling it a day.

Now, it's not unusual for us to work with little access in the planning stages to the big-name talent who partner with our clients at times, but it is unusual for our clients at the brand to drop the clanger that the star in question has, um, gone MIA.
With just weeks to go before launch, we're talking crickets. What they hadn't wanted to tell us is that the talent had gone dark. They're off the radar. Uncontactable. Disappeared, you could say. Turns out they're in rehab. Not only that, no-one on the management team has any visibility over when said superstar might be surfacing, if they were going to at all.

Considering our entire experiential creative work was built around the presence and participation of this much-loved face, you could call it a disaster. Not even the mini kind, just a good old-fashioned proper shitshow!
Initially there were lots of 'crisis management' solutions being thrown around, including discussion about body doubles (obviously appearing far off in the distance wearing dark sunnies and waving, ha!), or very quick cameo appearances with no talking (on the assumption that said talent was able to be temporarily extracted from the facility, however briefly), but eventually - a week out from launch, with millions of dollars spent by the client for this partnership and still no sign of reappearing - the whole thing had to be cancelled and pivoted to a sales-focused retail experience.

Unsurprisingly, our celebrity was unable to attend however their influential besties all rallied and showed up, and with them came hundreds of fans all wanting a small connection to their favourite popstar. It still blows my mind just how much you can achieve in a week, when you absolutely have to!
Q.
Q, What's the best (and unusual) personal tip of yours that young PR/Event Creatives should know when embarking on a career?
SB: Work hard, keep learning and be curious. But mostly, work hard. People like to look successful but only a few want to be successful because it's hard work.

JB: Planning your own wedding (or even throwing a great party) does not make you an event producer. Curating your own IG feed does not make you a social media expert (let alone a content creator with genuine influence that moves the needle).

To master a creative field there are no shortcuts. You need to do the time. Learn the rules before you think about trying to break them. You'll make plenty of mistakes along the way and that's the point.
I love that quote from Thomas Edison: "I have not failed. I've just found 10,000 ways that won't work."
Q.
Q. What's next for you & the business?
SB: I'm super excited by New Moon, we offer something very unique: a truly global perspective on experiential and influencer marketing with a deep understanding of the cultural landscape here. That's rare. That point of difference is only going to strengthen over time as we grow.
I believe that we will make an impact very quickly in Australia and that brands will look to us to drive great experiences for them.

JB; Oh and we're hiring! (quite a few roles actually) If you think you've got the New Moon stardust, drop us a line, we'd love to hear from you.
Q.
Your Socials: (Email / Instagram/Twitter)