Sam Vassos - Industry Profile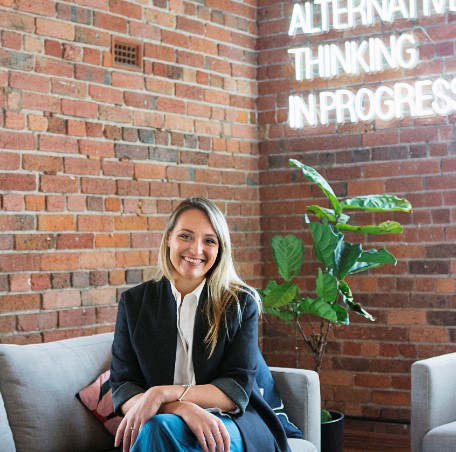 Q.
Describe your journey in a nutshell.
Since getting started in the industry as an intern in 2009, I have gained experience in both Australia and the UK, working in both agency and in-house roles. Prior to joining Alt/Shift, I was client-side in a Global PR Brand Strategist role at Cotton On Group where I led global strategies and supported local implementation for Cotton On KIDS, TYPO and Cotton On Foundation. I loved this role and the energy of COG and its founders. But it was in this role my ex-MD from Mango, Elly Hewitt tapped me on the shoulder with an (what I believe to be a once in a lifetime) opportunity to join herself, Richard Hayward and Anton Staindl (the Hay and Sta from Haystac!) and launch a new creative comms agency - I suppose you can say the entrepreneurial spirit got
into my veins.

As one of the founding members of Alt/Shift, it's been so exciting to see our agency's growth and welcoming, who I believe to be some of the country's best communications consultants and creatives into our team. In just shy of four years, we've expanded the team from three to 25 across Melbourne and Sydney which we're incredibly proud of. We believe business growth and agency culture are intrinsically linked and have built the company on a foundation that fosters a healthy and connected workplace - something that has certainly been put to the test this year. A big part of my role is implementing modern ways of operating and promoting flexible working hours across our Melbourne office. Day to day, I'm pretty hands-on in working with our team to develop and implement creative and strategically-driven campaigns, while providing guidance to clients and driving new business to the agency.
Q.
What do you think your business and your team excel at (areas of expertise)?
At Alt/Shift, our people are the kind you want to work with. Since day one, we've brought digital experts and creative thinkers together with comms specialists to ensure we develop ideas that are as interactive as they are strategic. Our holistic approach, I believe, is what really sets us apart. In addition to our account teams within the agency, we have a dedicated creative content and strategy team that sits across all new and existing campaign briefs. This ensures our approach to every project is all-encompassing, addressing key industry insights and/or opportunities. We also have a knack for great storytelling and pride ourselves on fostering healthy relationships with clients to uncover exactly what news will be of interest to our communities. We're a creative bunch with niche expertise across all areas of communications more broadly, so when we come together to get a job done, that's when the magic happens.
Q.
What brands are you currently working with?
We've had the privilege of working with a stable of incredible clients across a diverse range of industries and sectors, delivering award-winning campaigns that change behaviours, secure global media attention and achieve business objectives. Alt/Shift has a number of internal teams who specialise and work with a large scope and range of businesses. Since opening our doors we've had the privilege of working with brands like Mazda Australia, Lion Dairy & Drinks, 7-Eleven, Smiling Mind, ASICS, Deliveroo, AbilityFest, TAC.
Q.
What measures have you put in place to adjust to this current corona crisis?
As a business that places a huge emphasis on agency culture and team relationships, we've really wanted to ensure all staff members remain connected and engaged despite their environment. We made the decision to have our teamwork remotely about a week or two before mandatory lockdown (wave one!), and whilst we had a few processes in place (help manage file access, desk setup etc), our culture and team support initiatives have evolved as time has progressed - with a lot of the ideas coming from our team. We've introduced weekly 'Wine Times' and 'Coffee Roulettes' where we randomly pair colleagues across our Sydney and Melbourne offices to catch up casually over Zoom. Moving to client work, we've had to be really flexible and agile to cater for the ever-changing needs of our clients, while still delivering exceptional results through stories that have cut-through during the current news cycle.

We've delved into crisis comms, and also delivered some really heart-warming campaigns that have come to light through these challenging times.I remain inspired by my team and how they have adapted to working from home whilst best servicing their accounts. We've seen incredible maturity, creativity and strategic counsel from our team
Q.
What advice can you give to Social Diary members who are really suffering at the moment? What strategies have worked for you?
COVID has railroaded 2020 without a doubt, for me personally I struggled with the first wave of lockdown - I literally stepped out of activewear and back into the agency after eight months of maternity leave, only to step back into my activewear six weeks later, though this time working from home with a toddler in tow! My advice is to lean on your village - your mentors, friends, family, friends of friends. Connection to people and communication is what's helping me and as someone who loves a list, I'm trying to focus on the things within my control.
Q.
What's your greatest career achievement to date?
Alt/Shift's success continues to be my biggest challenge and greatest professional achievement to date.
Q.
And your worst disaster!
I've definitely had some near misses, but in the grand scheme of things, none that I'd call a disaster.
Q.
Are you optimistic about the recovery from Corona and are you ready for the fabulous bounce back when the industry revs up again?
I am - albeit cautiously optimistic. I've tried to take the learnings from what 2020 has brought, but I am so ready to get off this rollercoaster. I can't wait to have a face to face client meeting, a wine with my team, my endless chats with El Hewitt (my MD and partner in crime) to be in person, visiting our Sydney team and hell, even to be stuck in the morning commute. I believe PR has a big role to play in helping brands bounce back from impacts of COVID-19.
Q.
If you weren't doing this, what would you be doing?
My two favourite aspects of my role is creativity and the people I get to work with. So if my feet weren't firmly under the desk at Alt/Shift it'd have to be something that allows me to be creative whilst surrounded by a killer team.
Q.
Your Socials: (Email / Instagram/Twitter)