Luke Spags Giannoukas- Corona Light Speed Round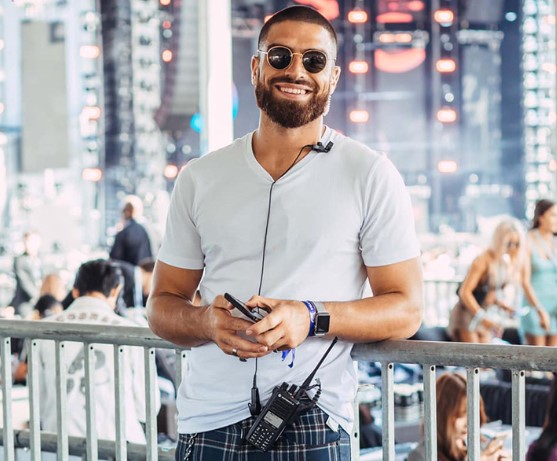 Q.
Have you been glued to the news or do you have corona fatigue?
When everything began I was checking the News regularly but I got over the constant negativity and outlets pushing fear and uncertainty instead of looking at any potential silver lining.
Q.
What's the thing you've done in iso you normally wouldn't do?
Sleep in past 6:01am..
Q.
Not showering for 3 days bingeing on Netflix, working from home while homeschooling a litter of kids or somewhere in between?
I was bingeing heavily on TikTok and my poor dog "Lucky" was a star of some videos which she'll never forgive me for.
Q.
Have you succumbed to Tiger King & banana bread
I clawed through Tiger King (I'm pretty impressed with that btw) but Banana Bread / Cooking is not my expertise and would rather support my local café.
Q.
How many zoom meetings have you done?
Been working from home for nearly 8 weeks. Minimum one a weekday and any additional meetings so roughly 54.
Q.
What's your favourite iso tipple?
Vodka Proteins… Health is Wealth right?
Q.
Best show you've binged on?
Ozark. If you haven't watched it get yourself some chocolate and get comfortable.
Q.
Go-to industry peer who you've asked for advice or kept in close contact with to get through it all?
The whole Lucky Ent team, I'm lucky to have such good business partners and staff.
Teamwork makes the dream work.
Q.
Favourite conspiracy theory?
Elon Musk is really an alien sent from Mars.
Q.
Thing you've missed the most?
Seeing all our Lucky Artists getting to do what they love from playing shows and festivals all over the world.
Q.
Thing you've liked the most about it all
I'm a bit of a work lunatic so actually getting to stop for a second in saying that though I can't wait to become a lunatic again.
Q.
First thing you'll do when we're all free to do ANTHING again?
Brazilian Jiu-Jitsu.
I like to choke and strangle people in my spare time… These aren't fifty shades friendly though.