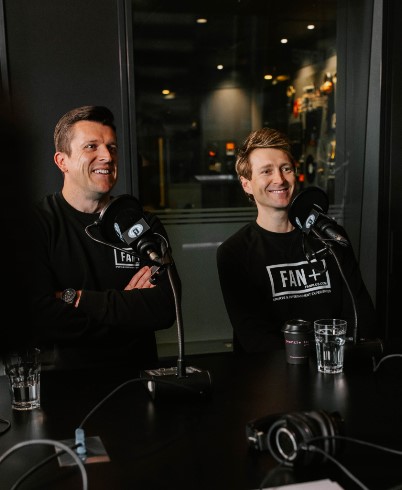 Q.
Describe your journey in a nutshell (where you started, when you started, how many staff, and your role)
I started straight out of University working with the Parramatta Eels in the corporate sales team, after 8 years at the Eels, I moved across to the Bulldogs NRL team as head of the corporate sales team, after 6 years I decided to start my own business in sponsorship consulting "The Sponsorship Department", then the idea of FAN+ evolved, wanting to create a marketplace for sporting and entertainment experiences, (a red balloon for sports and entertainment with a premium offering) which has been a great addition and offering to my businesses and investment portfolio.
Q.
What do you think your business and your team excel at (areas of expertise)?
As a small team and very much a start up, our team is lean and you learn to wear 5 hats and all dig deep to achieve the goals and operations of funning a business. I draw on my skills in sales, marketing, administration and marketing to get the results of business needs.
Q.
What brands are you currently working with?
We are working with various sporting teams in Australia, UK and USA as well as agents, PR / advertising agencies and individual athletes across a range of sports as well as corporate business such as Qantas, CBA, and Mastercard.
Q.
What's a recent campaign you are super proud of because you either came up with a big creative idea; worked with a minimal budget; or exceeded expectations?
We worked on a great campaign with News Limited (Plus Rewards) 2 lucky people won a sporting experience to Dallas, sitting courtside, meeting the players, visiting the training facilities, I also attend as part of the facilitation of this campaign and was one of the best experiences I have been part of. The highlights video can also be viewed
here
.
Q.
What are the greatest challenges the industry is currently facing?
An ever-growing competitive landscape, both across, sport, entertainment and an individual's social and family time
Q.
What do you love about the industry and your business?
I love the fast paced nature, the people you meet, the travel and events I get to experience as part of FAN+.
Q.
What do you tear your hair out about?!
Sydney Traffic!!
Q.
What's your greatest career achievement to date?
Completing my MBA with distinction, starting 2 business in 3 years, running and operating both businesses and being part of the YOY growth and scale.
Q.
And your worst disaster!
Touch wood – nothing too serious to date!
Q.
What's next for you & the business?
Growth, scale, new markets and increasing headcount across the business, we are really excited with what lies ahead for FAN+.
Q.
If you weren't doing this, what would you be doing?
I would be travelling the world and looking for the best sporting job I could find, most probably working for a sporting team in the USA or an English Premier League team.
Q.
Your Socials: (Email / Instagram/Twitter)