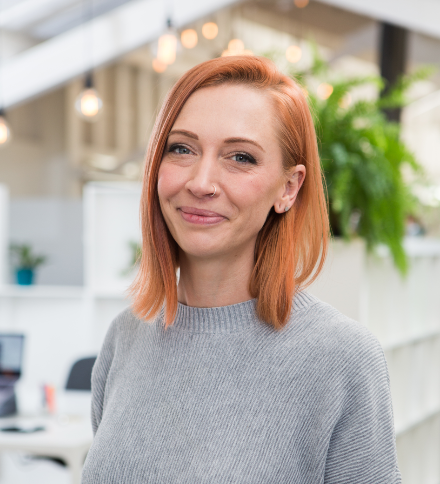 Q.
Describe your journey in a nutshell:
In 2012 I quit my job as an exec. Paralegal at one of Australia's top law firms and started The Atticism. I started with just me, working out of my lounge room, and after a few months I started working with a few subcontractors. In 2014 I took a break and went on Masterchef Australia - and then when I got out, I got an office in Newtown and Ash-lea started working with me. She still works with us today as our operations manager.
Q.
What do you think your business and your team excel at?
We all have differing areas of experience and expertise and I think what we excel at the most is working as a complete team. Whilst we take charge of client accounts and run those individually, we regularly work with our team to come up with new ideas, check our progress and offer suggestions if we hear of something we think will work. We ditched the standard press release a while ago, and in January 2019 we ditched social media/influencers - so we really focus on more creative ways to work with our clients.
Q.
What brands are you currently working with?
We have recently expanded our services to global companies so we have a great alcohol brand from London, a super fun client from Scotland we'll be launching shortly, a new development in Hong Kong that is going to be one of the largest museums in the world and then our amazing Australian clients. Nelly Robinson is a big one for us as he is blowing up globally and we're on the cusp of seeing him really hit the 'big time;' MATE is a telecommunications agency we adore as they're just the nicest guys and treat their customers like family, we've got Botanica and Sol Spa which is exciting as we're trying new ways to get their stories across, and one that's close to our hearts is Marrickville Metro. There's more of course, but you can see them all on our website!
Q.
What's a recent campaign you are super proud of because you either came up with a big creative idea; worked with a minimal budget; or exceeded expectations?
We're super proud of our work with Nelly Robinson. Nelly had been pushing hard for PR for many years and as I knew him personally but didn't want to push the friendship/business relationship and ask to take over. He eventually gave us a shot and within a couple of months we had him featured in publications from Europe, America and Asia. He's collaborating with chefs across the world and is being flown to cook in rainforests in Malaysia and high end venues in the UK. I'm also heading to Russia in February to check on a collaboration with White Rabbit which we think could be amazing! It's definitely rewarding when you know you can smash it for a client, and then you do exactly that!
Q.
What are the greatest challenges the industry is currently facing?
Budgets. It's a vicious circle for a lot of our clients, especially in hospitality. Basically the lower budgets come from people ordering in food or not having the spare cash to dine out regularly - with a lack of people dining out, and that in turn lowers our budgets or what we can do for a client creatively. I also know from chatting with editors that lots of media are struggling and they need to prioritise paid placements - which in turn lowers PR budgets. It just goes round and round.
Q.
What do you love about the industry and your business?
As corny as it sounds, when I can see my efforts helping a customer gain attention and then grow their business, this makes me incredibly happy. I'm finally beginning to see myself quoted in different publications around the world and media are calling me to get my thoughts on industry shifts, or the shutdown of social media likes etc - it's rewarding to have worked SO hard to get a business started, and then the industry repays that with respect!
Q.
What do you tear your hair out about?!
The phrase "bums on seats" or "spike in sales". Often times companies come to us when they feel like their business is failing. They say they have $2,000 and need their entire business to start flourishing in 6 weeks. It's just not possible. I try and explain over and over how it all works and that I cannot promise results that will increase their income so quickly - yet again and again, that's what people want. I think it's an education thing, but every time I hear the phrases, I do quietly pull my hair out.
Q.
What's your greatest career achievement to date?
I think just the fact that I am finally being recognised as a thought leader. Speaking on panel talks overseas about PR, chatting to PR groups about new ways to pitch, speaking at food events, judging PR awards etc… it all makes you feel validated. As someone with heavy imposter syndrome, those small gifts of validation really make me feel like my career is headed in the right direction.
Q.
And your worst disaster!
I struggle a little with staff hiring. I am an introvert and every time I have to hold interviews with potential staff, I work myself into a state. I get physically ill and shake like a leaf! I spend the entire time talking (out of nerves) and must sound like an absolute nutter! Once I held an interview with a potential account manager and when she left, I realised I had not let her say a single thing other than "yes". I basically told her my entire life story and then told her everything about the business and asked if she thought that sounded good and then closed the meeting. It was so embarrassing and I had to call her back in for another interview - and this time got my operations manager to sit in and control me.
Q.
What's next for you & the business?
We're really trying to expand our image overseas. As I live in both Sydney and the UK, I am seeing more and more how small Australia is when it comes to the larger potential of PR. Having the globalised experience and the ability to watch different industries and trends as they move around the globe is really making me see the need to expand our reach. My goal is to open a 'full office' in London, but I dont want to rush into that too soon. Slowly but surely!
Q.
If you weren't doing this, what would you be doing?
I'd either go back to the legal industry and train up as a lawyer, or I have always thought I would make a pretty decent forensic psychologist! I also wouldn't say no to the opportunity to be an international government spy…. But I don't think there's any courses for that.