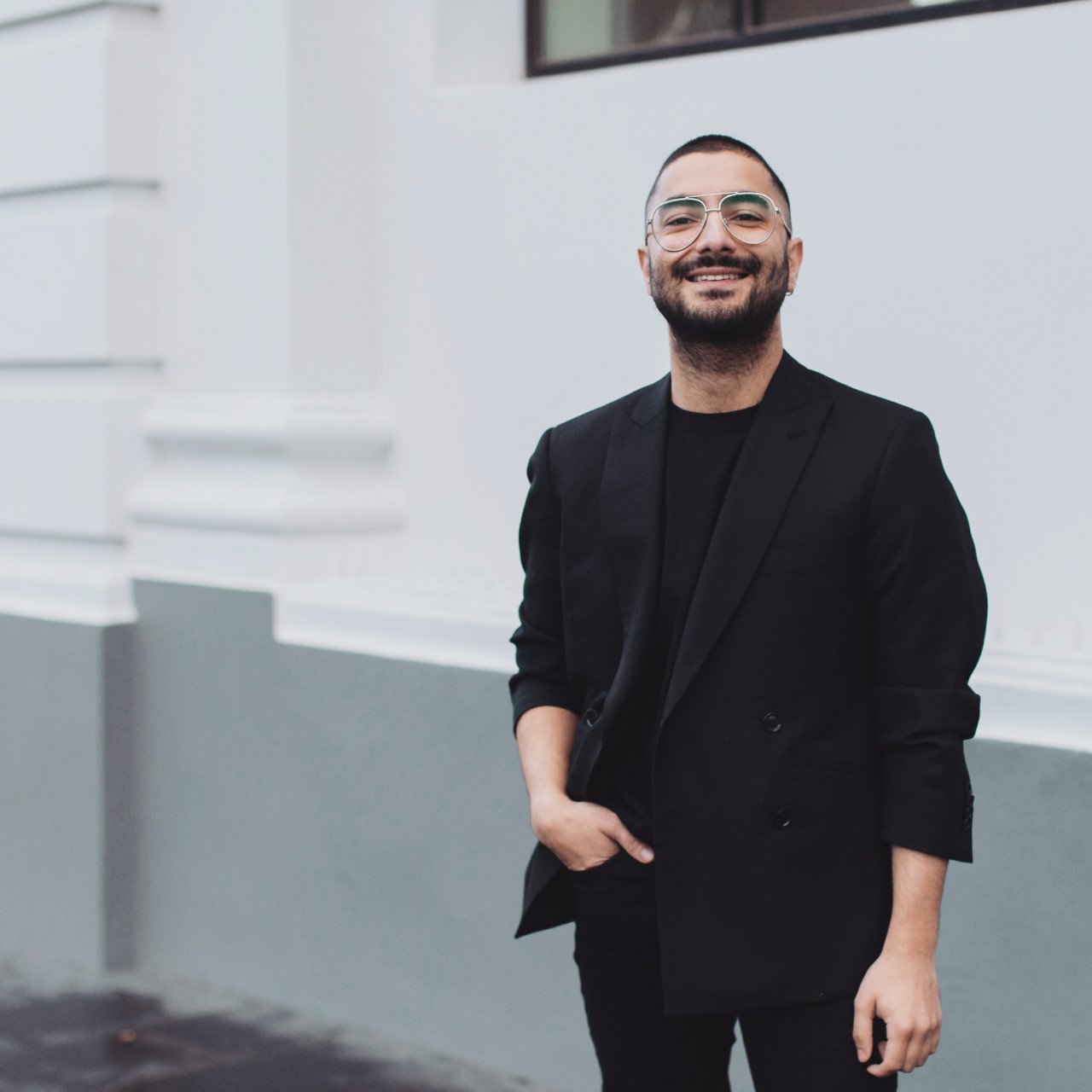 Q.
Describe your journey in a nutshell:
So in a nutshell I guess my journey started in Fashion Design. It has always been my passion and after graduating High School whilst also studying Clothing Design & Production at TAFE in my home town Geelong, I moved over to Paris and took part in quite an intensive Fashion course over a summer at the Paris Fashion Institute.

Following that I came back to Melbourne and got my first real job as a Buyers Assistant in Menswear for Myer. After realising that numbers and spreadsheets were not so much my thing I moved to London for two years where I spent a year interning and working in Fashion PR. Following this I made the switch over to the editorial/styling side of the industry as I had always been a stylist at my core and was grew up sort of innately knowing how I wanted outfits to look, without even realising it. I suppose this is when my Freelance career began as whilst I was working in PR I began Celebrity Styling on the side, so it was the birth of that crossover into styling. I then spent the remainder of my time in London interning and working as a Fashion Assistant across titles like InStyle, Cosmo UK and British Vogue before landing a job as an e-commerce stylist at Burberry.

When I came back home I decided to keep my creative juices flowing by starting a video based Fashion blog and so 'Style By Deni' was born. Following that, I packed everything up again and moved to Sydney, to pursue my magazine career, where after interning at Cosmopolitan/Cosmo Bride for 6 months I was offered a job. I spent 4 incredible years there starting with the online team as the Interactive Producer and Video Editor. It didn't take long for the Editor at the time Bronwyn McCahon, (who instantly saw my love for Fashion) to move me from the digital team into the fashion department. I started off in the role of Style Editor and was later promoted to Fashion Editor of which I spent 9 months in before Cosmo's closure last year. It was around that time that I began to freelance more and was signed by my agency DLM.
Q.
What do you think your business and your team excel at?
I remember when I worked in Marketing we had to always think about what the USP (Unique Selling Point) of the brands/products we were pitching was. So if I was to pinpoint my 'USP' I would say that it sits in the tone of my overall fashion voice/approach - for me the two pillars of everything I do are to inform and inspire. Otherwise there's no real point.

The thing I loved most about Cosmo was that it allowed me to look at what was happening across high fashion, celebrity style, pop culture, on the street etc... and dissect that and deliver it in a way that a young reader in Geelong would understand and be inspired by. So I think that is where I excel, its always about making the person consuming my work - be it a celebrity client, a reader flicking through a recent bridal story I styled, someone reading my lengthy Instagram captions or a viewer watching my #FiveMinutesWithDeni story on socials - feel informed and inspired.
Q.
What brands are you currently working with?
At present I'm a Contributing Fashion Editor to the GT Magazine which is Geelong's highest circulated supplement in the weekend's Geelong Advertiser. I'm also working with Westfield Geelong as Personal Stylist/Shopper. I've just been brought on to work with the Barwon Health Foundation as the Creative Director on a fashion fundraising event they have each year called 'Catwalk for Cancer' and I just did a social partnership with the Ovolo Hotels as part of my #FiveMinutesWithDeni series.
Q.
What's a recent campaign you are super proud of because you either came up with a big creative idea; worked with a minimal budget; or exceeded expectations?
I recently did a job I really fundamentally believed in and was passionate about with Canadian mens custom-suiting brand Indochino. As they were about to launch in the Australian market, their PR team brought me in as, I guess you could say, a Fashion Expert/Brand Ambassador to introduce the brand to the Australian market as well as menswear print and online media.

In the lead up to the event I had a Skype call with the Canadian team who briefed me on the brand. As someone who used to sit on the journo side, I have been to my fair share of launch events but this one was so personal and intimate. Each journo came in one by one for an hour appointment with me, where I talked them through the brands ethos, what they stand for, their concept and then measured them up for their suit and off we went designing their custom made suit together.

Following the event, I did a video on the brand's launch, what it offers their customer and how I feel its truly here to solve solutions - as part of my #FiveMinutesWithDeni series. In terms of engagement, it remains to be one of the highest episodes viewed. What I loved about this whole project was from the planning stages of the launch, to the event itself and then the video that followed - it allowed me to work collaboratively with the client on how they wanted this message to be delivered and they were super open to any ideas or suggestions I had. Following that, working one on one with the journalists that came in, meant I got to exercise my passion for that personal styling element and putting together the perfect look for each of their personalities. From the social media perspective it allowed me to communicate, inform and inspire my followers about this brand and what it stands for.
Q.
What are the greatest challenges the industry is currently facing?
I think overall as an industry its all about relevance and keeping up with tech. I started off my career at the sort of tail end of traditional media and very quickly saw the effect that both digital and social media had on the way we create and communicate content.
Readers, viewers, customers, clients, brands - want everything instantly. With the world at our finger tips - quite literally - technology is challenging us in that we way communicate the thing we're all here to share - fashion. So, I don't think thats necessarily a bad thing I think it just means we need to be more innovative and more savvy with the way we approach creating content. I think technology aside we also have a huge sustainability issue on our hands. The fashion industry is among the highest that contributes to waste globally so that's a narrative that needs to keep being discussed so that we can come up with the necessarily solutions.
Q.
What do you love about the industry and your business?
I love that Fashion is the one industry that is constantly evolving, almost daily there are new ideas and different platforms to source inspiration from. Ultimately the reason I love what I do and the industry we all work in is that we have an opportunity to communicate a message and celebrate the arts, in a way that moves and inspires people to live and be the best versions of themselves. That's to me what styling and fashion should be about - self expression and individuality!
Q.
What do you tear your hair out about?!
I wouldn't say I tear my hair over it but the one thing that does occasionally get me down is the social media aspect of it all. Instagram can be a very toxic place especially for young people who are so impressionable and feel the need to live beyond their means or look and dress a certain way to fit in to what's trending and 'Keep Up With The Kardashians' (Who by the way I'm obsessed with - so no shade, but facts are facts).

I however take it all with a grain of salt and have imposed a rule for myself that I only share things I'm genuinely passionate about and feel will inspire others or bring other people up. There's enough hate, tearing people down and negativity across the board of these platforms - we need more love, more inclusivity, more diverse representations of beauty and style. So its about finding that balance which can often be hard to do on platforms like Instagram but I think at least for me, I'm finally comfortable with my voice and the messages I'm trying to share with my community.
Q.
What's your greatest career achievement to date?
I think I'd have to say working my way towards becoming Cosmopolitan Australia's last Fashion Editor. Its a period of my career I will always be proud of and look back on with the fondest of memories. We reached an audience of young women and men who were so beautifully vulnerable and open to being a part of conversations they perhaps were to afraid to Google or talk to their friends about.
Whilst I worked in the Fashion department primarily, the aspect of that job I loved most was being a part of the daily conversations we had in the office that would inevitably turn into features, stories or campaigns. One that comes to mind was the #CosmoPride campaign, which grew from an idea I pitched to our Editor in the first 6 months of my journey at Cosmo and Cosmo Bride. It evolved into an annual issue that celebrated the queer community in such a beautiful way. I'll always be very proud of that.
Q.
And your worst disaster!
Touch wood I haven't had any major disasters, there have definitely been things I would have maybe done differently but I think its all a part of evolving as a creative. Your mistakes become lessons, so there's nothing I really look back on and think 'disaster'.
Q.
What's next for you & the business?
The next step for me is really evolving my overall personal brand as a (hopefully) highly respected, national Fashion Stylist/Commentator-Voice/Brand Consultant. I think I have something unique to offer that sits across various sectors of the industry. I've always felt like I have more to offer than styling alone, I love the conversations that stem from fashion and often lead into much deeper topics. So I guess the next step is developing those other areas. Such as a fashion based web series I'm working on, growing my body of work in areas like campaign styling, fashion presenting on both a digital and television level and more high fashion editorial styling of which I wasn't really able to do in my former role. There's definitely lots of exciting things ahead for me as a Freelancer for which I'm really excited about.
Q.
If you weren't doing this, what would you be doing?
I honestly couldn't think of anything else I'd rather do but I have always been incredibly fascinated by Psychology. Specifically criminal psychology, I'm a bit of a sucker for a true crime doco, podcast, series etc... so maybe I'd be a criminal psychologist and really dig deep into why criminals commit the crimes/murders that they do. It's something that fascinates and intrigues me greatly.