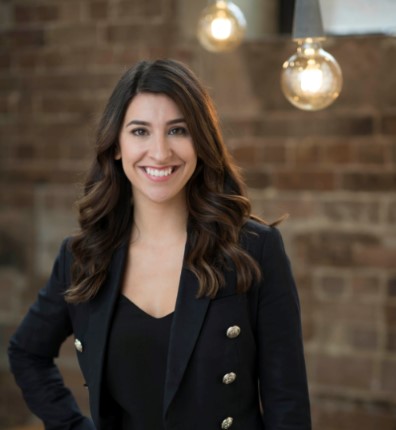 Q.
Describe your journey in a nutshell (where you started, when you started, how many staff, and your role):
I started my career in the agency world, first working in a small lifestyle consumer agency and then at one of Australia's top consumer beauty PR agencies. I really thrived in the collaborative and creative environment of that agency and stayed there for four years before I was poached for an in-house PR role at the multi-national beauty company COTY. There I worked across over 20 international brands from prestige and designer fragrances like Chloè and Marc Jacobs, to the global powerhouses that are OPI, Sally Hansen and Rimmel. It was an incredible experience with a lot of amazing brands, however after two years in the role I began to miss the variety and fast-paced, creative nature of agency life.

Anna Stark (my business partner) and I had worked together in my prior PR agency life and while we only crossed paths for six months, we remained friends and often joked over a couple of wines about starting an agency. We were both working in-house and itching to get back into the agency world.

We wrote a business plan, resigned from our jobs and launched Stark Matthews. That was four years ago.
Q.
What do you think your business and your team excel at (areas of expertise)?
It sounds a little clichéd, however we really focus on authentic relationships with our clients, journalists, influencers or suppliers. Our strong connections are something we really value. It's still such a vital yet sometimes forgotten part of the industry. With the rush of the busy work lives we lead people can sometimes lose sight and only see something for what is in it for them.

And secondly, although most of our clients are in the beauty space and people can sometimes view the industry as fluffy, we are strategically-led with all our campaigns and as we work across multiple disciplines (PR, events, social media, content marketing) so we are able to create cohesive, multi-dimensional campaigns for our clients.
Q.
What brands are you currently working with?
On an ongoing basis across PR and/or social media we have a great array of skincare brands like Dr. LeWinn's, Trilogy, A'kin, Cinch, Revitanail and kōtia; the iconic global beauty brands Blistex and Remington; natural lipstick brand Karen Murrell, the household staple brands Swisspers and Multix; and kitchen appliance brands Russell Hobbs and George Foreman. We've also recently added Sydney's premiere non-surgical cosmetic clinic The Clinic and Bali Body to our portfolio.

Then there are other clients we do project work for such as the recent Tarte Cosmetics Face Tape media and influencer event as well as work on Nedahl Stelio's new natural fragrance brand Recreation and fashion forward rainwear brand PAQME.
Q.
Do you do many events, if so – what's your average per month or year?
With media and influencer events, I'd say we do between 6-8 per year. If you count all consumer projects we do too, it's about three times that.
Q.
What's a recent campaign you are super proud of because you either came up with a big creative idea; worked with a minimal budget; or exceeded expectations?
I really enjoyed the Simple Switch campaign we did for Multix's environmentally conscious Greener range. While the brand is a top performer in the kitchen tidy category, there is relatively low brand awareness with these kinds of items. People purchase their baking paper, alfoil and kitchen-tidy-bags without really thinking. I naturally sway a little green, so loved the concept that people could make an easy switch at the grocery aisle and choose compostable tidy bags, recycled alfoil and unbleached baking paper – as opposed to their plastic and unrecycled counterparts.

Funnily enough, we had an intern in at the time the stock arrived for the campaign and I heard her say, "Why would anyone feature these?" She sadly didn't stay with us long enough to see that the campaign was a huge success in terms of both editorial and unpaid influencer coverage as well as the all-important uplift in sales.
Q.
What are the greatest challenges the industry is currently facing?
It's been said a thousand times, but it really is the fast-paced nature of the ever-changing landscape and ensuring that clients are across the changes, understand what they mean, and how strategies need to shift to generate the best ROI possible. As a boutique agency it's really easy to be agile and pivot quickly – clients just sometimes need a little longer.
Q.
What do you love about the industry and your business?
So many things - the creativity, the amazing people I get to work with, the workplace culture Anna and I have created, and the fact that we get to have fun and call it work (which my friends outside the industry often remind me).
Q.
What do you tear your hair out about?!
Mostly egos – I tend to avoid working with them at all costs. Luckily Anna and I have a no a**hole policy and we happily turn down jobs where we think the client's personality fit isn't right for our agency.

Also, couriers. It's an ongoing issue. Our team (myself and Anna included) have been known to jump in the car and deliver delicate things to publishing houses personally to ensure that they arrive in perfect condition.
Q.
What's your greatest career achievement to date?
There a few things that really stand out.

The first is launching our agency. I'm not the type to do things with blind confidence and hope for the best, so it took about a decade of industry experience to get to a place where I could really offer something of value to clients. I also knew I had a great business partner, without whom I would have never taken the leap.

The second is acquiring our old boss' PR agency one year after launching our own. He had a positive effect on both mine and Anna's growth and experience in the industry. We worked for him during a time where there were so many horror stories about the way many agencies were run and the awful culture and working environments. He was absolutely an exception to the rule. He taught us a lot about how to be a great leader and I'm forever grateful for the mentoring in the early days, then the opportunity to acquire his business years later. Taking over his business felt like a very symbolic passing of the baton. I'm so happy that our one-year-old business was successful enough that we could afford to, and that he entrusted us with something he had built up over 25 years.

Then there's also the times where we've won competitive pitches when I know we were up against some really big, well established agencies.
Q.
And your worst disaster!
We worked on a big client event and one of our usual suppliers was unavailable, so we went with someone new (remember how I said relationships are really important?!). It was a complete disaster. The new supplier overspent their budget by a significant amount. It was too late to pull the plug, so we instead suffered a small loss as we didn't think it was fair to pass this cost on to the client. It was the first time in my life a project had ever gone over budget.

Moral of the story – only work with people you know and trust.

The silver lining was that the event was otherwise a big success and to this day we still get asked about it.
Q.
What's next for you & the business?
We've just celebrated our fourth birthday this week and so much has changed since we began. We launched as a public relations agency however this year we now have as many social media clients as we do PR clients. We're also doing a lot more in terms of owned content – blog posts, content shoots, EDMs and SEO copywriting. I imagine over the coming years that this will expand even more.
As we've learnt, things can change in a flash so our agency stay focused on being agile and able to react and adapt to changing landscapes quickly.
Q.
If you weren't doing this, what would you be doing?
I actually have no idea. It's not something I give much thought to. In an idyllic world I'd own a cake store and make delicious treats all day. However, I know my mind would get bored so I'd probably be writing up communications and social media strategies on the side.