Gabrielle Sigelski and Hayley Cole - PR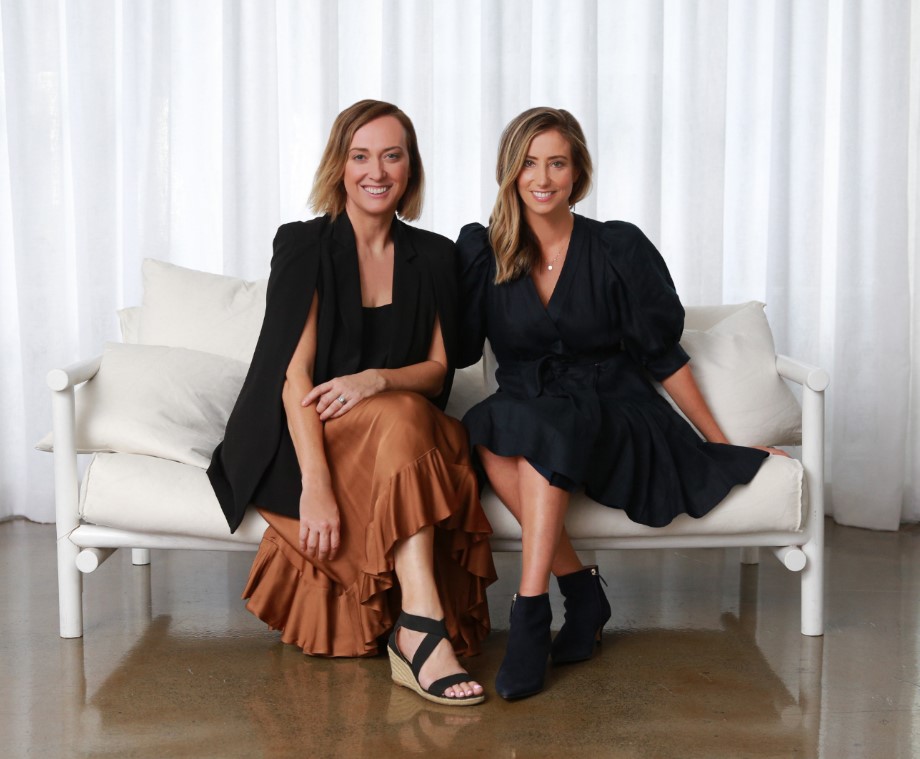 Q.
You've recently partnered to take over the helm of Stellar, a successful boutique agency with the fabulous Marguerite Julian previously at the helm for 21 years. Huge congrats! Give us a snapshot of your careers to date and an overview of your current roles.
Hayley:
Let's just say I didn't think I'd be walking in MJ's footsteps when I stepped into
Stellar
as an Account Executive in 2007 but I couldn't be prouder that I am. I've been lucky to work with some incredible female leaders in my time like Marguerite, Victoria Tulloch, Heidi Middleton, and Sarah-Jane Clarke, so I hope I've taken little a bit from each of them. Funnily enough they have also been empowered female partnerships where two very strong, but complimentary skill sets have come together to create formidable businesswomen. I also didn't think a UTS design degree in Fashion & Textiles would lead to me owning a communications agency, but life has its way!
Gab and I are co-owners and directors of Stellar. We acquired the business 12 months ago and have been busy re-structuring our business model and team, all of which we are so excited to be launching under our new brand this week. Gab and I met 15 years ago (at Stellar working on big campaigns for Red Bull, ghd Hair and Merivale) and often laugh that we work so well together because we are so different. What we do have in common are our values, work ethic, aspirations and the little people at home that keep us grounded at the end of day.
Gab:
I was literally found by Stellar (or I found them!) on the floor at the loft on King Street Wharf, it had just opened and Stellar was managing them. I had returned from a European stint and decided that Stellar was my next employer, so I hounded the then GM, Tori Tulloch, every week for a job until she caved. That kicked off my on and off love story with Stellar. I stayed for 7 years until MJ politely told me it was time to move on, then I opened my own business and soon moved to Austria for my husband's dream job at Red Bull. I also worked for Red Bull's global comms team on a social impact project. One year in that role gave me value in-house perspective and was an incredible eye opener. I remained very good friends with both Hayley and MJ along the way and when the time was right to come back and work alongside Hayley, I jumped at it. We acquired the business 18 months later.
Q.
What do you think Stellar and your team excel at?
We have created a team with complementary skillsets and interests, by choice and not by chance. For larger campaigns it means we can offer integration across all communication platforms and for smaller campaigns, we have a specialised consultant leading the charge – it works brilliantly.
Our team excels in the four divisions we have created, and we offer these as an in-house service for all clients:
Stellar Communications – strategy development based on integrated ideas and platforms
Stellar Studio – content creation that ranges from multi-level brand campaigns, to social media story telling
Stellar Social – social specific storytelling to create brand wildfires offered via tiered client packages
Stellar Connex - bringing people, brands and ideas together, within our broad community of contacts.
We are also an agile team and we can move quickly. As we all know, client campaigns often move from their intended approach and we need to be able to shift gears quickly, we can do this seamlessly.
Q.
What brands are you currently working with?
Gab:
Some of the brands we currently work with are A.H. Beard, Conair – VS Sassoon, VSforMen, Scunci, Arbonne, Cafe Sydney, Glasshouse Fragrances, Ritual, Jackalberry, acre Eatery, and True Me. A full list of the brands we work with can be found on our new website
here
!
Q.
What are the greatest challenges the industry is currently facing?
Gab:
PR/Comms is in a great position to lead the way, with the obvious shift from the traditional agency scope and structure in marketing/comms teams. Communications has more of an opportunity to gain a bigger piece of the pie which is exciting. For us, the challenge is educating our clients on how we can do this and shifting their mindsets. Aside from that, I feel a major challenge is keeping your staff motivated and engaged, to ensure they are working on a mixture of campaigns that interest them on a personal level, that's when you see the best results.
Q.
What do you tear your hair out about?!1. What do you tear your hair out about?!
Hayley:
Like most people, probably time (Marguerite if you are reading that's time, not time sheets). We all wish we had more of it but I have never worked more efficiently in my life than I have as a business owner and mother of two so there's something to be said about the more you have of it, the more you waste of it.
Q.
What's your greatest career achievement to date?
Hayley:
Acquiring Stellar from Sydney's Doyenne of PR and feeling her pride in showing her the direction for the new Stellar, 12 months after the changing of the guard.

Gab:
Definitely acquiring Stellar and launching the new version of it. MJ created a business with such integrity and authenticity, we are proud to hold onto those attributes and inject a brand new and exciting energy into Stellar.
Q.
And your worst disaster!
Hayley:
In the scheme of things, it's no disaster but it felt like one at the time – the then editor of Good Food screaming down the phone lines at me for sending her an invitation to a pie shop opening on a doily.

Gab:
I like to call them learnings and I still have them! We really try to instil in our staff not to be afraid to fail. My most memorable is with media - exclusives being revealed by competitor journos and also trying to get out of a MAJOR exclusive photoshoot because the client was not looking their best following a big launch party…
Q.
What's next for you both & Stellar?
Hayley:
More great work with great people with great outcomes. And hopefully a holiday!

Gab:
We would love to work with more passionate people who aren't afraid to take a risk with their PR and communications, allowing us to develop clever and creative campaigns.
Q.
If you weren't doing this, what would you be doing?
Hayley:
I would be chasing a two and four-year-old around the skate park.

Gab:
I knew from high school I wanted to get into PR so not quite sure there is anything else for me. I do love the idea of piling the kids, husband and dog into a campervan for a year-long Australian outback adventure though, that would be the dream.