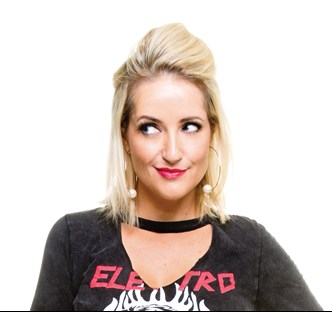 Q.
Give us a snapshot of your career to date and an overview of your current role?
This is my 25th year working in commercial radio. I started out in country radio in Hervey Bay doing a love song request show and I was also the Promotions Manager! I then moved to Gold FM on the Gold Coast and hosted a national night show! I had a lot of practice and lots of chances to get it wrong! And boy did I! I was lucky enough to win a national radio award for that position and I was then approached by a brand-new station starting up in 2001 in Sydney, to be a part of their initial team. The station was called NOVA. I realise now how special that was and it was such an incredible time!

I won a few more awards for being the Best Music Personality in the country. I was so passionate about music and creating an entertaining morning show (9am-12pm) which hasn't really been done before because it was always about the breakfast show and the drive show. I then did a stint on Nova Drive in Sydney. I decided to leave so I could travel, and I really wanted to have a go at breakfast radio, so I knew I had to go away and reinvent myself... I had six months out of radio then I co-wrote my own stand-up comedy show which was an incredible experience but f**king terrifying!

When I returned to radio, I had to eat humble pie and work in a few stations I thought we were beneath me but they turned out to be the best experiences of my life!
I then did a 7-year stint Co-Hosting the breakfast show at i98FM in Wollongong. After that I ended up on the Gold Coast hosting my own drive show for SCA at Gold FM (I had taken full circle. I was then poached to Co-Host the breakfast show here in Brisbane for 973fm and this is where I am today with the Bianca Mike & Bob show... it's bloody fabulous. I have also been lucky enough to do a few TV stints hosting my own show on arena TV and also being an opinion giver on many TV panels over the years and I have really enjoyed that too!
Q.
What are you looking for from PRs – and what kind of pitch would get an immediate response?
The best thing for PRs is to make the pitch short, simple, and to the point. We are so busy that I automatically delete nearly every email I get, unless the subject heading is directly related to me, my brand, or if it could make our radio show sound better somehow...

PRs need to do the hard work - don't just send me a press release and expect me/us to be creative and find a way to work YOUR product or person into OUR show... we are too busy for that! If you want to be on our show then you need to pitch it to us in a way that we can do it, and that suits the format of our show. I know it's more work but otherwise your email will be deleted I can assure you!

Some of the best pitches I have had are from people like McKell Media who understand radio, know how tight the show is, and know how hard it is to get guests on. So they come up with creative ways that are easy, quick, and simple for us to use/digest their talent, AND to help our show be more entertaining.

If there isn't anything in it for us, then we certainly are not going to help you. There are too many demands on us daily to come up with content, so it needs to be relevant to our listeners and our demographic!

And if you really want us to talk about your product/restaurant/show, it makes total sense to me that you send one/products/invites to the team… it's just good old fashion sucking up and let me tell you, it bloody works!! Everyone loves a freebie.
Q.
Do you prefer email or phone pitches, and what is the best time of day/day of the week to catch you?
I prefer email as I very rarely answer my phone. If you are lucky enough to have my mobile (and quite a few PRs do!), then a quick text message is better, and I will always be honest with you! I hate bullshitting you guys because I know how busy you are. I would rather just say straight up 'sorry that's not really on target for us at the moment' or 'I apologise but that kind of product is not something we would give away on our show' etc. Please don't ever take offence because I just hate my time being wasted, and I hate wasting other people's time! It's much better if we are honest with each other, don't you think!?

If you want us to promote someone's book, it makes sense that you should have sent us a copy before you text us, so we have a chance to have a look at it! You would be surprised the amount of times people want us to interview someone about their book, but don't send us any copies to give away or review etc…it's hilarious?

Also please don't send me an email or a text on a Friday! In breakfast radio we just want to get the hell out of the studio on Fridays! The amount of times I have come in on Monday and realised I have missed an email that came in at 2pm on a Friday… ha! We are long gone by then and most of the time your email will get lost in the spam. The best times to get breakfast radio people is to send an email first thing in the morning, Monday-Thursday!

My other bit of advice is be persistent... Sometimes I will read an email while I am on the toilet and think to myself "yes that's a great idea!" but totally forget to get back to the person. I have no problem with you stalking me, because eventually I will tell you to piss off haha!
Q.
During your career, what has your experience been like working with PRs?
Because I have the mind of a Promotions Manager, I really understand what most PRs want and to be honest, without blowing wind up my ass, I usually get told I have been a dream to work with. I'm the one that's happy to bend over backwards for the product or hosting the launch for you! I'm the one that will do way more social posts than I said I would for a fantastic product! I'm one of those people that if you look after me, I will look after you baby! Wink, wink, nudge, nudge!! ;)

I have hosted many product launches and events for PR people over the years, because I have the gift of the gab and I can keep an often 'boring product launch', exciting! I have come from a family background of PR and stage performers, and I know how to make an event exciting! The amount of times I've been to a product launch & sure, the MC might be on TV/ a known influencer/really pretty... but it's so f**king boring and you just wonder 'wow no one cares about this product now because you have chosen an MC that is so vanilla, no one is going to walk away talking about this event - that is a huge mistake and I see it so often!!!

Most of the PRs I have worked with over the years have been fantastic - very professional and lovely. Usually because I am very upfront at the beginning about what is expected from both parties and I think that way you can't go wrong!
Q.
Do you attend any media events and if so, what kind?
I used to go to the opening of an envelope LOL, but that was back in my single days when I had a lot more time on my hands and could handle small talk. Now as I have gotten older, the thought of standing around sipping champagne and talking shit with people I hardly know isn't as appealing! Ha!! So for me, I will show up to event if it's extra special, or if the PR person has done favours for me in the past and I feel I owe them a favour. I will always support their products. As I said, if you look after me, I will look after you! I have often offered my services to MC launches for free in return for continued loyalty. I have so many brands that I have fantastic relationships with now and have had for years because of that!
I had one particular company ask me to come to a fashion show years ago – they wanted to put me in the front row and use my profile for their own benefit, but there was absolutely nothing in return for me - it cost me $50 in taxis! Ha! And when I got there so many other people they had invited had been gifted outfits by the label to wear at the big launch show but they had not made that offer for me, yet still expected me to be in the front row and pose for photos to help them get publicity for the event!? I have not had anything to do with them since then as I find that really cheeky and uncool...
Q.
What do you love about your job?
Breakfast radio has been the dream gig for me since I started out 25 years ago. I grew up listening to British shows and thinking what an amazing job - being able to be funny, open and authentic, talk to, inspire and interview people, make people laugh on the way to work and play great music?! I thought wow, if I can get paid for that, that must be the best job in the world! Every day is different, and I get to meet such interesting people. Sometimes the pressure is really tough, and I know it sounds like first world problems, but Brisbane is a very tough competitive market filled with some of the best radio talent in the country. It's neck and neck and the hours can be very difficult. There are lots of perks as well. I get to do some fun TV stuff and I get asked to be an ambassador for many incredible causes, where in my own small way, I can help make the world a better place. People say 'the hours must be great; you get to go home at 9am' - that is just f**king hilarious! Most days I don't get out of there before 11am and the rest of the day is spent checking emails, staying on top of pop culture/current news, and then regrouping with the team each night to make sure the next day show is going to be a cracking one! To be honest, you have to live and breathe radio, especially in a capital city market!
I think I answered that above… you can be so tired! It can also be quite a narcissistic job because I'm constantly having to analyse my own life, talk about the relatable things happening in my life and sometimes the self-scrutiny can drive you crazy! That's why you need a holiday where you're not thinking about how you can utilise everything that happens in your private life to be made into a top break for the radio. It can be extremely exhausting to constantly be focusing on yourself! LOL. Sometimes the hours make it difficult to go to the gym because you're so tired and anyone who does shift work will understand… and it's easy to get on an unhealthy rollercoaster of eating junk and not going to the gym… that's kind of where I'm at, at the moment, and I'm the biggest I've ever been at a size 14/16! Ahhhh.
Q.
Describe a typical day:
No such thing as a typical day! Sometimes a day can be quite cruisy - we may not have many interviews, our show planning doesn't go for too long, it's a sunny day and we can get out and enjoy it! Other days, we have long planning meetings which can be very draining, especially if you're not feeling particularly creative… we sit and stare at the whiteboard and try and come up with shit hot ideas that are going to get us publicity! Some days are great, like when the Prime Minister decides to pop in and you ask him a question that's so cheeky it ends up going viral, making international headlines, and your show gets great publicity!
The other day Rob Thomas came in and sang live for us with the ukulele, and that was brilliant. He has been a hero of mine since Matchbox 20 and to be able to stand next to someone like that and talk to them openly about their life is such an incredible thing, and I never take that for granted!
I've also been lucky enough to travel with this job. I remember when Richard Branson started Virgin Airlines here - we got along so well he decided he wanted me on their first flight to LA with a pack of celebrities! Sometimes you can really get spoilt in this job if you have an open personality and you're not a wanker!
Q.
If you weren't doing this now, what would you be doing?
To be honest I would probably be working in a PR company as I love the excitement! I would probably ring Roxy Jacenko and ask her to give me a job. She has been doing stuff with me since she first started when she was 23 at Nova! I would also love to write books and live in a beautiful old Queenslander, just outside of Byron Bay. I'd love to mentor young women, have a blog and maybe an inspiring podcast… oh and have chickens that lay their own eggs and do yoga every day! Ha!
I'm very proud of my mental health awareness Instagram page and I would love for you to follow it! @anxietyfree - my normal Insta page (where I manage to over share all the time...!) is @biancadye.
To be honest I haven't used Twitter in five years… does anyone use Twitter anymore?? I'm more than happy for PRs to contact me directly!
biancadye@gmail.com