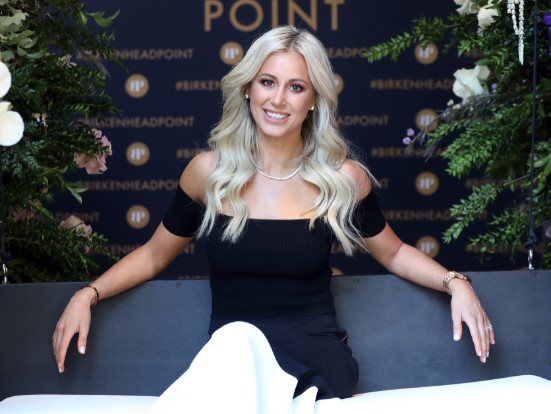 Q.
Describe your journey in a nutshell:
I started Sweaty Betty PR in 2004 when I was just 24 with little more than a few months of PR experience to my name. I saw that there was an opportunity to really make an impact in a market that, quite frankly, had a tired and outdated way of doing things.

When I started it was just me, hustling day and night (even sleeping in the office!) to make things work. It took off quickly and the team soon grew as Sweaty Betty PR became the go-to agency for fashion and lifestyle brands.

My role has evolved as Sweaty Betty PR has grown, as well as with the addition of my other businesses. It's obviously a lot more work, more responsibility and pressure trying to juggle my time and attention between five businesses (including Pixie's Bows). But something I've always been quite adamant about is that I need to work in my businesses. I have an incredible team around me, but I still believe that it's important for me as the business owner to be across all accounts and projects – at the end of the day I'm ultimately responsible for the results and our reputation. To me this isn't an industry whereby you can simply manage from above, you need have your finger on the pulse of what's going on, driving the team and working with them to ensure expectations are always exceeded.
Q.
Tell us about your new baby 18 Communications and tapping into the Chinese market – what have you learned and what can you now offer your clients?
We offer Australian brands an unparalleled opportunity to tap into the Chinese market and its ever-increasing appetite for Australian brands and products.

Having an innate understanding of the Chinese consumer mindset, online shopping habits, the Chinese social media landscape and unique communication channels are all vital for success in the Chinese market. It takes a great deal of focused effort and an innate understanding of these factors in order to break into the Chinese consumer market and be successful – something many brands don't have the time or resources to invest in.

18 Communications offers a one-stop shop for brands looking to drive awareness and sales in the Chinese market with a dedicated team of specialists who understand the unique way in which Chinese consumers interact with brands and ultimately make purchases.

What I've learnt from opening 18 Communications is that it's never too late to learn something new and to put yourself in new and unfamiliar territory. Every day I'm learning and being challenged which I find incredibly rewarding.
Q.
What do you think your business and your team excel at:
Sweaty Betty PR as well as my other businesses excel at the 'wow' factor. People come to us because they know that we will stop at nothing to ensure that their brand or product is not only seen and heard but recognisable, talked about and most importantly - desired. We specialise in conversation starting initiatives, stripping back the tired old ways of PR and communication and thinking about new ways to create a buzz.

Our areas of expertise are generating social media hype, long-term media interest and engagement (not just a once-off mention) and the bottom line; ensuring return on investment. The goal of PR, working with social media influencers, content creation and international relations is increased awareness, desirability and sales. This is something that we do very well for our clients, and we've earned a strong reputation for delivering over and above expectation.
Q.
What brands are you currently working with?
We are so fortunate that we get to work with some of the country's most incredible brands across all industries. Just a few of the brands we work include; Chargrill Charlie's, DU'IT, Beauty Boosters, Cosette and Glam Corner.
Q.
What's a recent campaign you are super proud of because you either came up with a big creative idea; worked with a minimal budget; or exceeded expectations?
It's almost impossible to narrow down to just one! Something we are big on at Sweaty Betty PR and my other businesses is to never feel like any event or campaign was 'the best' – we always want to push the bar even higher and exceed expectations. In that sense, there is no one campaign that stands out because everything we do must go above and beyond our own high standards and that of our clients.

Some recent examples include our Melbourne launch for Chargrill Charlies, the launch of 18 Communications at Bennelong as well as the campaign for the release Penelope's Playground – the children's book I co-wrote with Pixie. Each event, launch and campaign are completely unique and customised to the client's needs. Exceeding expectation is path and course for us, that's what we aim for each time because 'good enough' is never good enough!
Q.
What are the greatest challenges the industry is currently facing?
One of the biggest challenges is the rapidly changing nature of the way people communicate. The media and communication landscape are constantly evolving and as such it means that communication professionals must always be ahead of the game. Consumers are incredibly savvy and no longer wanted to be communicated 'at' – they want to be communicated 'with' and be part of something bigger than simply purchasing a product or attending event.

The PR, communication and social media industry's biggest challenge is trying to anticipate these changes before they happen so that strategies can be adjusted swiftly and constantly. Attention spans are increasingly becoming shorter, so the challenge is being able to stay ahead of the trends and consistently coming up with fresh, exciting and relevant new ideas that engage and delight.
Q.
What do you love about the industry and your business?
No two days are ever the same! I have an amazing team, incredible clients and opportunities that I never thought possible; but the thing that I love most about working in this industry and my businesses is that I'm always doing new things, learning something new and challenging myself. I don't have the longest attention span! This industry is perfect for me!
Q.
What do you tear your hair out about?!
People that expect to land their dream role without doing the work. There are so many PR hopefuls that expect all the so called 'glamorous' jobs upfront. You must not only want the top jobs but be willing to truly work for them and earn them over time. I find people with a sense of entitlement incredibly frustrating and they usually don't last long!
Q.
What's your greatest career achievement to date?
Looking back over 15 years of business there really isn't one achievement that I would say is my greatest. I think being in business for 15 years in an industry that it notoriously fickle and that grows bored easily is a great achievement, but that's not the whole story. Overall, I would say that my ability to adapt and anticipate trends has helped ensure my success. I've evolved not only Sweaty Betty PR but diversified into new businesses, written books, held my In Conversation Seminars, taken on ambassadorial roles and more.
Q.
And your worst disaster?
While I'll have my fair share of mishaps over the years, there really hasn't been anything that I would call a disaster. A disaster to me would be something that meant we are no longer in business – Sweaty Betty PR is celebrating 15 Years in business this year; there certainly haven't been any major disasters but problems and moments that make me question why I do this sometimes, yes! Mistakes are an opportunity to learn and I think it's been my ability to pick myself up and keep going that's ensured I never stop learning from my mistakes and in turn never stop finding ways to get better, improve and create new business opportunities.
Q.
What's next for you & the business?
I'm always looking for what's new and what's next, but I never let a plan prevent me from taking on unexpected opportunities. It was never in the plan to create a social media content creation agency, to write a children's book or create an adult hair accessories range! What's next for me and my businesses is to continue to challenge the norms and push the boundaries of what's possible – not just as a long-term vision but in the way we do business each and every day.

One of the ways I've been able to grow my businesses and create new ones is by being flexible and without a rigid plan. I've often said that people can get too caught up in the planning rather than the doing, meaning they can miss opportunities or pass them up because they don't fit 'the plan'.

My goal is to always be striving to do things differently and better as well as to jump on new ideas and opportunities as they arise. This goes for business and in life, because once you hesitate and second guess yourself that's when you can miss an opportunity to do something extraordinary.
Q.
If you weren't doing this, what would you be doing?
It's hard to imagine doing anything but what I'm doing now, I live and breathe my businesses every day. Having said that, if I weren't doing this, I would be a florist! One of my first jobs was working in a florist and I absolutely loved it. Even now when I'm coordinating florals for an event, I am totally in my element!