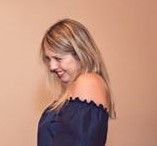 Q.
Give us a snapshot of your career to date and an overview of your current role?
I started out working at Pacific Plus, which is the custom publication arm of Pacific Magazines. I was Editorial Coordinator, and mainly worked across the Virgin in-flight magazine, Voyeur, which introduced me to some amazingly talented women who were full of wisdom and advice when I was starting out. From there, I moved on to Gourmet Traveller, where I worked as a subeditor for a year, covering a maternity leave position. For the past couple of years I've been living in London, where I worked at a travel website as a Content Editor. While I was there I also freelanced a bunch: I was writing and sub-editing for Collective Hub magazine, as well as Voyeur, Broadsheet, Intrepid Travel, and a few others.

Since December I've been working as Assistant Editor at Broadsheet Sydney. I write for all areas of the site (and specifically oversee our City File vertical), edit copy, commission photographers, talk to PRs a lot and do pretty much anything else that's needed!
Q.
What are you looking for from PRs – and what kind of pitch would get an immediate response?
I'm looking for a hook or something newsy that is useful to our readers. If you're sending a press release, it's great to have the most pertinent info right up the top – I receive so many press releases, and if the important info is buried down the bottom beneath a load of unnecessary words, there's a good chance I won't get to it.

At Broadsheet we are looking for stories that help our audience get out and about in Sydney. If what you're pitching isn't new or useful to our audience, there's a good chance we won't be able to use it! We also want to go in depth with what we cover – so if you have talent to interview on hand and images we can use, we're able to get stories up and cover things faster. Any pitch about a new opening or an exclusive would more than likely get a response.
Q.
Do you prefer email or phone pitches, and what is the best time of day/day of the week to catch you?
I prefer email. It's good to have info in writing because, though it may not work for me now, it could in the future. Often if I haven't replied to an email, it's simply because I haven't had the time and I likely won't have time to chat on the phone either if that's the case. If an email is sitting in my inbox first thing in the morning, I'm more likely to read it straight away.
Q.
During your career, what has your experience been like working with PRs?
On the whole I have really enjoyed working with PRs. Just like journalists, they're trying to do a good job and I think that shows. There are of course exceptions – those who can't take no for an answer and others who send press releases to us simply to tick boxes. But usually they are professional, helpful, and great at what they do.
Q.
Do you attend many media events and if so, what kind?
I do. We cover so many different areas that I attend all kinds of events – restaurant and bar launches, 'birthday parties' for venues, a whole range, really.
Q.
What do you love about your job?
As I mentioned before, I get to write about and be involved in so many different areas, from food and drink to art, travel, fashion and general happenings in Sydney. I'm a real stickybeak, so to get to have my toe in a bit of everything is right up my alley. I also get to chat to amazing people and get Sydneysiders involved in our city, which I reckon is a pretty exciting thing to do for work!
If I could have an extra set of hands to type more stories out, that would be great.
Q.
Describe a typical day:
There's not really any typical day. It all depends on what's opening or closing, what the breaking news is, and what we are publishing for the day. Generally, though, I'll scan the internet for any stories that might affect our readers (public transport delays, bad weather, etc). If it's all fine on that front I'll check my emails and try to get out any stories for the day. I'll also spend a bit of time editing work by our interns and trying to give them feedback, and commissioning photographers, which can be pretty time consuming! I also continually scan my email for anything important. I liaise with my Editor, Sarah, throughout the day, and we'll fairly constantly come up with ideas for future stories.
Q.
If you weren't doing what you do now… what would you be doing?
For better or worse, I've never had a back-up plan. I'm pretty good at data entry though!