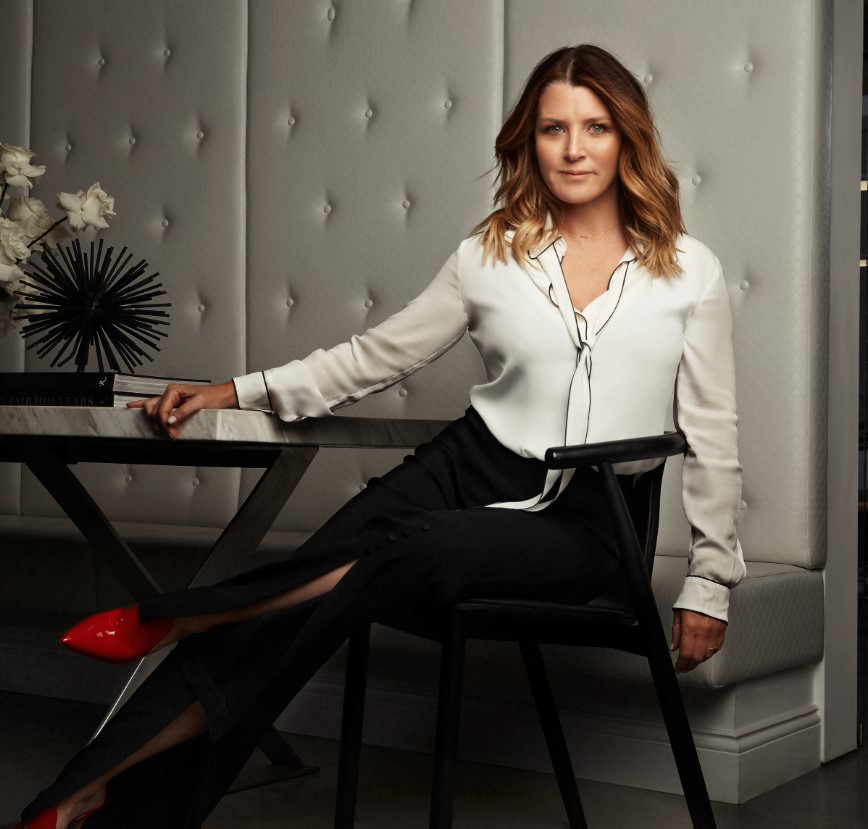 Q.
Describe your journey in a nutshell (where you started, when you started, how many staff, and your role)
My career journey started in the publishing industry at what was then called ACP Magazines. When I left my job as Director of Sales, I really didn't want to work for anyone else as I'd done it for over 20 years! So, after discovering a gap in the market for a new luxury agency that understood Australian women, I launched
MAXMEDIALAB
in 2011 – a full-service luxury communications agency for beauty & lifestyle brands. Working for myself sounded good in theory, but I went from having 2,000 people working for me to opening an office with just one other person, which was quite daunting. That was 7 years ago in a tiny office in Balmain. Now, I have 45 staff members in a much larger dream space in Alexandria. Our new office includes a sister agency, MAXCONNECTORS, Australia's first influencer agency which I launched in 2014. Today, we have over 50 talented beauty & lifestyle influencers on the books and a full team of Talent Managers signing huge influencer campaigns every day.
Q.
What do you think your business and your team excel at (areas of expertise)?
The nature of the industry we're in means that we need to be at the forefront of the digital and media landscape. My team is very passionate about staying up-to-date with developments and trends across every platform. We work hard to develop an in-depth understanding of our audiences, which means we're ideally placed to create innovative content as platforms evolve. Furthermore, we understand luxury like no other agency in Australia.
The team we've put together is literally the best – the smartest and the most committed. They're also the coolest, and they have the best taste in shoes, but that's really more of an added bonus.
Q.
What brands (and/or talent if you'd prefer to speak about talent) are you currently working with?
With an ever-growing portfolio of luxury beauty & lifestyle clients, we're proud to be working with the most forward-thinking clients on a global scale, and some of the best brands in the world – such as Hermès, Giorgio Armani, Audi, Ralph Lauren, Moët & Chandon, and La Prairie. None of these clients are projects; they are all long-term clients who have grown with us. We're typically known for beauty, with a portfolio that includes Nude by Nature, ZOEVA, All Saints Skin, Marc Jacobs Beauty, Kat Von D and FENTY Beauty by Rihanna. As for new clients, this year we welcomed Kokomo, Luxasia, Schwarzkopf Professional, Alterna Australia, and the list will continue to grow throughout 2019.
Q.
What's a recent campaign you are super proud of because you either came up with a big creative idea; worked with a minimal budget; or exceeded expectations?
In 2018, we partnered with Sephora Australia to bring over 30 of the country's beauty-industry heavyweights together to give 3,000 consumers a beauty experience like no other at Sydney's iconic Luna Park Big Top. The day was a huge success, with masterclasses from Australia's leading beauty YouTubers including the likes of Chloe Morello, Sammy Robinson and Nikkia Joy (who between them have a reach alone of 7.5 million)! Guests were also invited to experience the world of Sephora, with some of the biggest global beauty brands including beautyblender, BECCA, Benefit Cosmetics, Commodity, CoverFX, Dior Backstage, Fresh, tarte, ZOEVA and SEPHORA COLLECTION. Each brand had its own pop-up station, where beauty fans were encouraged to discover the latest and greatest products, trends and experiences in makeup, skincare and fragrance.
Q.
What are the greatest challenges the industry is currently facing?
The greatest challenge we've been experiencing over the last couple of years has been how rapidly the media industry is changing. Traditional forms of media & advertising just don't work on their own anymore. This is why we've been seeing such growth in the digital and social media landscape, particularly with influencers. According to a statistic that came out of Cannes Lions International Festival of Creativity, 60% of millennials say an influencer has changed their life or their view on the world.On the flip side, Forbes reported that 84% of millennials say that they don't trust traditional forms of advertising*. The rise of social media, reviews and community-built opinions means that your brand is not what you say, it's what they say. Word of mouth, reviews and social proof are the most trusted source of information. Fans consume influencers' online content for the same reasons they engage with others face-to-face; they want a personal connection.
Q.
What do you love about the industry and your business?
I also love how rapidly the media industry is changing. It's a crazy industry to be part of, but I wouldn't have it any other way! I think all my staff can attest to the fact that no day is the same at MAXMEDIALAB and MAXCONNECTORS, which means we're never bored.
Q.
What do you tear your hair out about?!
To put it simply, time. There's just never enough of it in a day! I try to make sure I spend enough time with each staff member during the week, and am there to support them whenever they need. But with major events on before, during and after work, important meetings every day, it can be hard.
Q.
What's your greatest career achievement to date?
I'm so proud that MAXMEDIALAB has been recognised on a global scale, winning the 2018 World Luxury Award in Perfume & Cosmetics Public Relations for FENTY BEAUTY by Rihanna's anniversary event. The agency was also a finalist in the World Luxury Award for work on Audi Australia in 2016. As for a personal career highlight, I was named on New York's prestigious 'Luxury Daily, Luxury Women to Watch' list in 2015.
Q.
And your worst disaster!
Accidentally entering an extra zero to the end of a bag order, and 10,000 showing up at the office when we only needed 1,000! Luckily, we could see the humour of the situation, but we never made that same mistake twice!
Q.
What's next for you & the business?
I'm so excited for what 2019 has in store for MAXMEDIALAB & MAXCONNECTORS. We'll be continuing with some initiatives from previous years (MAXINSTITUTE 2019 here we come – bigger and even better this year), as well as launching some new ones. The next new launch for us will be the expansion of our MAXCONNECTORS office to celebrate our 5th birthday. We've definitely outgrown our current headquarters, sharing with the MAXMEDIALAB team. We also want our talent to be able to come visit whenever they want and shoot their content, so we'll be installing a state of the art YouTube room.
Q.
If you weren't doing this, what would you be doing?
I'd probably still be in the media industry, as I love the quick pace and craziness of it all… maybe just a different sector. One thing I can say for sure is that I'd definitely still be working full-time. One of my favourite quotes of all time was from Meghan Markle: "I've never wanted to be a lady who lunches – I've always wanted to be a woman who works."