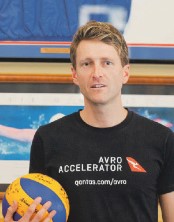 Q.
Describe your journey in a nutshell (where you started, when you started, how many staff, and your role).
I first started out working as a retouch specialist at ACP (now Bauer Media) across all their titles, then I moved into a sales roles with a below the line advertising agency and stayed with the company for 8 years moving into different roles within the group. From there, one of my clients at the time, The Sydney Kings, offered me the role of General Manager, which was a fantastic opportunity and I was the youngest GM in the league at 31. After 4 years at the Kings, I moved across to Volleyball Australia as Chief Commercial Officer and worked on the RIO Olympic 2016 campaign, I then moved out of sports and into the corporate world as Head of Sponsorship and Strategy with Helloworld Travel, until the FAN+ opportunity came up and I'm now the founder and CEO of
FAN+
.
Q.
What do you think Fan+ brings to the market and how will it help PR people?
FAN+ is a centralised marketplace that connects people with sporting clubs, athletes and personalities via an experience. We bring a new, unique approach to experiences and the value it brings to the market is the money can't buy opportunities FAN+ can offer. I feel it will help PR people use our platform and inventory for gifting, staff rewards, team building activities, client gifting, corporate entertaining, charities to use FAN+ inventory on- consignment for events and fundraising. FAN+ also donates a % of each experience sold to a registered charity or foundation.
Q.
What brands/events/talent are you currently working with?
FAN+ is working with both Australian and International brands and personalities from The Dallas Mavericks, Sydney Kings, Many Sea Eagles, Wests Tigers, Collingwood AFL, Cronulla Sharks and athletes and personalities such as James Magnussum, Jude Bolton, Deborah Hutton and Kerri Pottharst.
Q.
What do you love about the industry and your business?
Fun, exciting, fast paced, great people and the opportunities that the industry presents, with FAN+ creating a business from nothing more than an idea and to being where we are now it is really exciting and motivating.
Q.
What do you tear your hair out about?!
Sitting up all night doing emails and chasing my tail…
Q.
What's your greatest career achievement to date?
To be given the opportunity to run the Sydney Kings Basketball organisation as GM with no prior GM skills. The knowledge, contacts, learnings, challenges I was able to take away from that role have been the most rewarding and fulfilling achievements in my career, that role was an amazing stepping stone that gave me the opportunities to move into other senior roles with confidence and drive.

At Volleyball Australia, I was able to secure the sports largest and longest naming rights partner (Helloworld Travel) in its history of the sport. With FAN+ being selected out of 500 global applicants by Qantas to be part of their start up program and being able to raise over $500k from high profile investors in a 6 week period.
Q.
What's next for you & the business? What would you love Social Diary members to know?
FAN+ is growing our corporate presence, securing exciting new inventory and scaling the business, I would love to offer Social Diary a 15% discount off all experiences for the next 10 days.
Q.
If you weren't doing this, what would you be doing?
Most probably working in sports or a rights holder side.
Q.
Your Socials: (Email / Instagram/Twitter)