Jana Kalogeropolous - Media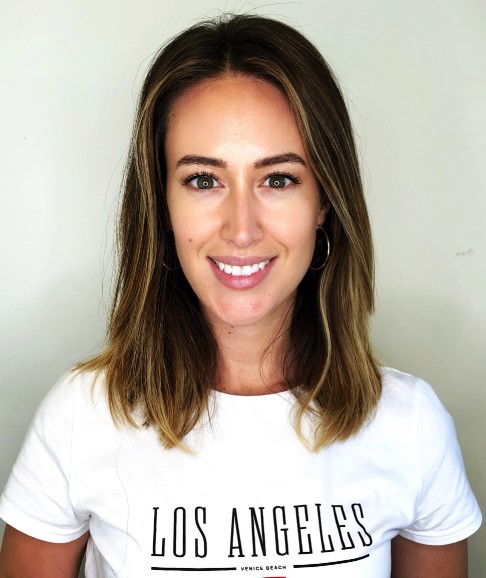 Q.
Give us a snapshot of your career to date and an overview of your current role?
Believe it or not my entire career has pretty much been at Channel Nine. My first job was as the networks wardrobe stylist in my early twenties and I was responsible for how the journalists looked on air. But I would find myself hanging around the studio floor and watching our hosts work and thought they were so incredible. So I gathered my courage and cornered Georgie Gardner in her dressing room and asked for advice about how to become a producer. She was so nice and encouraged me to start interning with one of the shows. I emailed every Executive Producer in the building and landed an internship at Mornings (now Today Extra). After a month or so I was offered my first producing gig from Natasha Daran, the shows then EP. I left the network to explore other options after a few years but came back to work on the Today Show. I was put into the control room and began work at 1.30am (that's not as horrific as it sounds you get used to it!) writing scripts for hosts and later became a chase producer who got the reporters and crews up for their news stories. At the end of 2017 I was offered entertainment producer, working across Today, Extra and Weekends.
Q.
What are you looking for from PRs – and what kind of pitch would get an immediate response?
Everyone says it but the elevator pitch is definitely the way to go. 90 secs no more or a paragraph in an email. Know what it is you want to get across and give me the key information. If there's a celebrity involve, pitch the talent instead of the product or event they're promoting. We always get the messaging away for you so don't fear not delivering for your client. I work on national programs which means our audience is broad and diverse, but more importantly, they are everyday Australians. Mums, Dads, Grandparents, people in regional and city areas. If the pitch is too niche or highbrow it might not work for us. Always think of the audience. That's who I work for at the end of the day and if they would watch it I want to have it. And if you have a fun or creative idea, one where our hosts can be interactive and create great colour for TV, it would definitely peak my interest!
Q.
Do you prefer email or phone pitches, and what is the best time of day/day of the week to catch you?
If your pitch is for the next day's show - CALL ME! You never know things fall through at the last minute and we always need content up our sleeve. If it's one for the following week or coming months shoot me an email and I'll usually reply the same day with an indication of yes or no. If I don't reply - follow up. You tend to have a better relationship with PR companies who always reach out to you and make their presence known.
Q.
During your career, what has your experience been like working with PRs?
Generally they're my go-to for finding content. But I will say be upfront about what you need to get away in a segment and I will let you know if it's realistic. Having everything locked in and the segment done for the day only to find out at 6pm the client needs something specific gets hard to manage on my end. Let me know ASAP and I'll do my best to keep everyone happy.
Q.
Do you attend many media events and if so, what kind?
Yes and no. I get invited to A LOT of entertainment events and can't go to every single one or I would burn out. But generally if it's a big one - ie ARIAs or film premiere - I go along. For me it's film or music. Fashion, beauty and lifestyle normally happen during the day and I can't leave the office because of our tight deadlines. Events after 5.30pm are ideal for people in TV...
Q.
What do you love about your job?
The perks are pretty epic... not going to lie!
High pressure environment and guests falling through at the last minute. Which is why we need PR companies that we can count on to pull a rabbit out of their hat!
Q.
Describe a typical day:
Eeek. My days can be pretty random. Generally I'm the office by 7.30am to be across all of my emails, reply to people, and get a jump on my day before everyone hits the office. We have a very lively team! Our morning meeting is at 9.30am where we run through the next day's show. After that I'm either planning ahead, producing a segment, or out on a shoot!
Q.
If you weren't doing what you do now… what would you be doing?
Phycologist. People fascinate me!