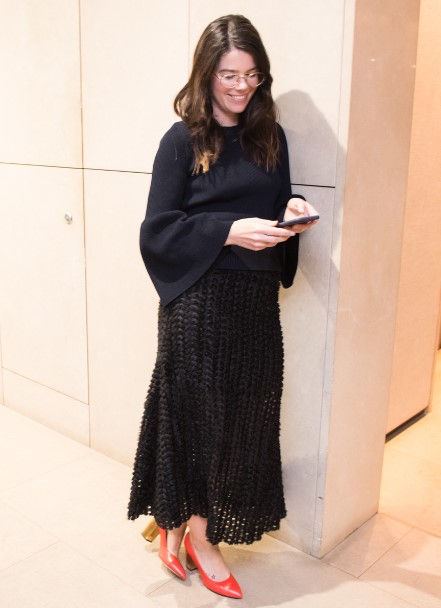 Q.
Describe your journey in a nutshell:
Before Flaunter I spent 15 years working in the communications industry with leading brands in the fashion, lifestyle, entertainment and not-for-profit sectors.

My first ever PR role followed an internship at MFPR. I worked there for over five years. Maria taught me so much about PR - lessons and experiences I still think about every day.

In 2009 I moved from lifestyle PR into the world of not-for-profit and helped launch one of Australia's most successful online fundraising initiatives. The Wall of Hands Indigenous literacy campaign was recognised with a United Nations Media Peace Award in 2010, in collaboration with The Sydney Morning Herald.

Looking back, working at a fast-growing charity - smart people with big hearts, a huge vision, extremely limited financial resources but abundant creativity and energy - was exactly like working at a startup. It was the perfect springboard.

Flaunter was launched in 2015. There are now almost 15 of us that make the business tick. From marketing, sales, engineering, UX, design, comms, data science… it's amazing to see how far things have come. Working with an incredible team, on a product I am 100% invested in is hands-down the best part.
Q.
What do you think your business and your team excel at?
Because the team is so diverse, so are the skill sets. But at its core, Flaunter excels at product innovation, communications, data, audience, PR and streamlining workflows.
Q.
What brands are you currently working with?
Haha - so many! The current count of brands available on Flaunter is 337. We work with fashion, beauty and interiors brands, and PR agencies. We'll soon welcome some new categories too, which is really exciting.
I've written more on who we work with
here
and some of our brands and agencies are featured
here
too.
Q.
What's a recent campaign you are super proud of because you either came up with a big creative idea; worked with a minimal budget; or exceeded expectations?
A lot of the magic of Flaunter is in the technology, and how that helps automate, track and scale stuff. Having said that, yes we're a tech company but we put people first in everything we do - team, clients, community. We're really close with a lot of our community because feedback loops are incredibly important to us - it's how we keep building a better product.

So technically, there's no one campaign I'm most proud of. But we celebrate all the wins that our product has enabled - media who tell us that Flaunter is so useful they couldn't do their job without us anymore, brands who've been featured in publications they've been dreaming of - or some in places they never knew existed [but tripled their web traffic!]. Showroom managers have called us life-changing, and publicists now list Flaunter as a skill on CVs and LinkedIn profiles. Brands have used their Flaunter stats to help wholesalers make buying decisions. Pretty cool.

Recently a brand was featured in a Christmas gift guide via Flaunter. It created such a spike in sales that she physically came into the office to thank us, clipping in hand :)
Q.
What are the greatest challenges the industry is currently facing?
I think there's a lot of reflection at the moment as to how PR [in a really broad sense] fits into the current landscape. How do we value PR? Change is inevitable and those who embrace it will find the next decade a lot more fun than those who chose to ignore it. I think leaning into data and AI will present incredible opportunities for the industry. Finally, we'll have more tools to quantify the value of our work so we can have more influence at a macro level.
Q.
What do you love about the industry and your business?
The industry - I love the creative energy.
Flaunter - my team.
Q.
What do you tear your hair out about?!
In startups, you live and die by the unit economics of your business. You know every number inside and out. The good stats are great news, but I've learnt to really lean into the numbers that paint a less exciting picture. It's the best way to learn and grow.

I wish this was more commonplace in this industry. I wish people listened to the $$ more before making decisions.
Q.
What's your greatest career achievement to date?
Flaunter!!! :)
Q.
And your worst disaster!
Hiring the wrong person. People are everything in a small business and making good decisions on how you grow your team is so important.

Oh, and that one time when I wrote a line of html and cleaned out the marketing site……..
Q.
What's next for you & the business?
In the short term - a platform relaunch, global customers and new categories. That's probably enough to keep us busy for a few months at least ;)
Q.
If you weren't doing this, what would you be doing?
If I wasn't 'doing Flaunter' I could definitely see myself learning more about startups and growth from within a different business. Whether it's Flaunter or not, I want to know what it's like to run a very big global company - from the ground up.