Emily Costello (Mills) - Media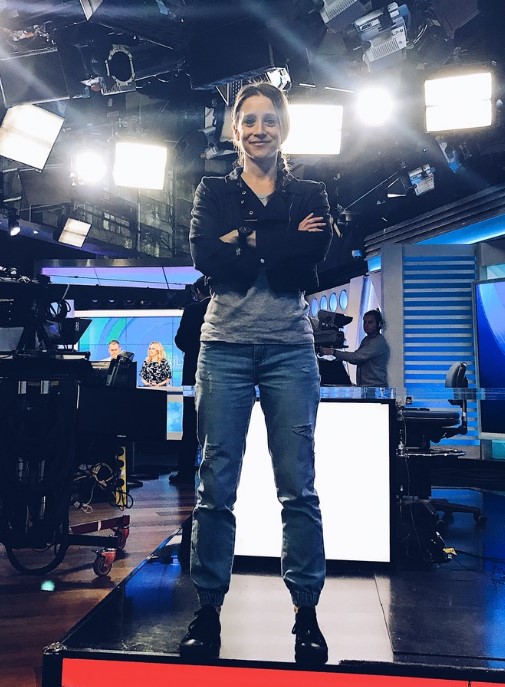 Q.
Give us a snapshot of your career to date and an overview of your current role?
I actually started out in radio doing on-air shifts, audio production and copy writing, but moved into producing. I loved the buzz of brekkie radio, but preferred being behind the scenes. I spent time in Lismore (ZZZ FM), Orange (Star 105.9), Sydney (WS FM with Jonesy & Amanda), then Canberra (Mix 106.3), and back to Sydney for the Hot30, The Bump and Dan & Maz… finishing up my radio career with the Triple M Grill Team in 2015.

I left to work with an audio-visual production company after that and lasted about 6 months away from the media! I just missed the rush of a bustling office/studio, the thrill of the chase and other nutty media types! We're a special breed. Now at The Morning Show and The Daily Edition, I get to cover such a HUGE range of topics. My main focus is 'Paw Stars', 'Superfans' and any other quirky geeks and freaks. I use the term 'weirdo' with love and affection, I promise! I love finding someone or something that's completely unique and a little left of centre. I'm all about entertainment – MAKE 'EM LAUGH!
Q.
What are you looking for from PRs – and what kind of pitch would get an immediate response?
It helps when they address me by name (and not copied my name into a generic mail-out. So obvs!), and know the show… know who they're pitching to. Why would Larry & Kylie or Tom & Sal love it? Give me the headline and the talent. What do you want to flog and who's flogging it for you? Have they been on TV before? If so, send me a link. I want to know how they are on camera. Are we getting first dibs? Be transparent – I don't want to find out the talent is on another network when I see it on screen myself. I'm pretty black and white – I operate with honesty and hope that builds trust with the PR firms I work with. And let's not beat around the bush – if there's a juicy headline surrounding your talent, we want to talk about it! But I'm not heartless – I'm happy to make sure everyone is comfortable and on the same page. It all comes down to communication. Pet peeve is someone telling me how to do my job/write my script or what time slot their guest should have. No thanks!
Q.
Do you prefer email or phone pitches, and what is the best time of day/day of the week to catch you?
Happy with either, but if you call me when the shows are on air, then I know you're not tuned in! :P If it's urgent, call me. Or tell me how quickly you need a reply in your email.
Q.
During your career, what has your experience been like working with PRs?
Mostly positive. Once you've established a rapport or relationship, then it's all smooth sailing. It's rare that I butt heads with someone… the lines of communication just need to be open at all times – before AND after the segment has aired.
Q.
Do you attend many media events and if so, what kind?
Slipping into high heels on a 'school night' are few and far between these days! But I love a good restaurant opening, wine & cheese night or awards ceremony.
Q.
What do you love about your job?
The variety and the people. I produced a segment about Party Goats a few weeks ago. Enough said.
Time zones. Any interview outside of Australia (particularly the UK) tends to make me nervous. One minor stuff up with timing or studios and things can go pear shaped.
Q.
Describe a typical day:
Start at 8am, go through the emails. Tea on a good day, coffee on a bad day. Start all the jobs that require the most brain power. See guests before they go on air. LUNCH CLUB (yep, we sit and gossip while we eat). Then finessing scripts and prepping for the next few days until I'm out the door around 5pm. Check a few emails from home, but usually try and 'check out' so I'm fresh for the next day.