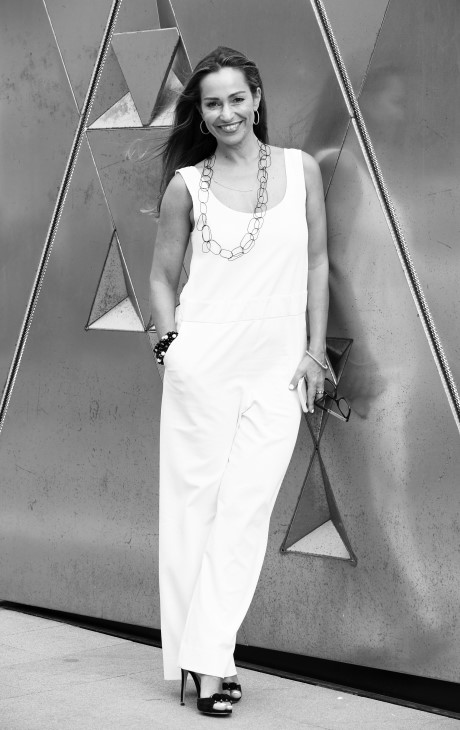 Q.
Describe your journey in a nutshell:
My magazine, media and events career started super young when I amazingly got a job as Ita Buttrose's PA when she had ITA Magazine. I don't think people know how incredibly connected and influential she was and at such a young age - editing our major newspapers, being the founding Editor and uber famous Editor of AWW and CLEO when they were HUGE, and of course her television, board and charity work. I adored her then and still do now – she's the best possible mentor anyone could want.

To round out my media career, I then moved into television working at Southern Star who produced all the big shows of the day back then and where I was to meet the father of my children.

Moving to ASIA gave me the best intro to luxury travel and luxury brands, and huge insight into running my own business. I then worked at FOXTEL launching arena, nickelodeon, the lifestyle channel, channel V and discovery, which of course gave me the foundation of my business with pillars in television, fashion, food, music, and lifestyle.
Q.
Tell us about the recent re-brand of AgencyB&Co?
I have actually evolved my name a couple of times from Sally Burleigh Publicity to Sally Burleigh Public Relations then to just SBPR and then after 18 years I just though it was time to fully re-boot … so, why AgencyB&Co?
Agency celebrates that there is a team on my accounts and is a business model that we all recognise as a hub of creativity, experience and ideas, that moves way beyond what "PR" used to be; B is of course a nod to Burleigh, but of course to your business and brand; &Co celebrates your company, our company, our connections, collaborators, collaborations and consultants, truly embracing the 'co' in the 360 degree communications service we offer to our valued clients and business partners.
Q.
What do you think your business and your team excel at?
Relationships, our database and my personal and professional contacts.

Having worked on so many clients in a myriad of connected industries has given me some major inside contacts and intel into a lot of major corporations - from Sydney Airport to Qantas to David Jones, ACCOR & AUDI to Virgin, Bauer and beyond, all the major media production houses, television and radio network insiders and more. And we are super well known for our television connections and celebrity campaigns having worked with a load of international and local actors, models, authors, influencers & chefs from Elle Macpherson, Linda Evangelista, Yasmin Le Bon, Georgia May Jagger & Megan Gale, Oprah and Beyonce to Jamie Oliver, Mel Gibson, Chris Hemsworth, Naomi Watts, Michelle Phan, Tash Oakley & Chloe Morello, and just this year Sam Neill, Joe Jonas, Starley, the Veronicas, and Sabrina Carpenter.

We also seriously know how to give you a look inside your own business, an objectivity and a 360 degree viewpoint on traditional, social and digital PR and marketing.
Q.
What are the greatest challenges the industry is currently facing?
Of course the demise of print is the biggest killer for all of us. It upsets me so much. My first love is and always has been magazines and television and I have had all the major media houses – Bauer, PacMags, NewsMags, FOXTEL, NOVA, and all the major networks as clients at different stages throughout my career. But I know every client, personality and brand do still love to see beautiful print profiles and coverage over something appearing in a digital format every day.

Online is incredible for immediacy and Instagram is so, so key to our industry - but print is still about beautiful branding and positioning and you can't beat it. Similarly, if you get your product or client in television, it is still king in so many ways – it's just who is watching and when that you have to be conscious of.

The thing is, our industry – the comms, advertising, marketing and digital agencies – has to support magazines and newspapers and convince our clients to stay in print married with online, or we will lose it all. We are a big part of this. If you don't want any of these mediums to die you have to invest in and support them.
Q.
What do you love about the industry and your business?
I'm a creative and a story teller. I've always loved the media, the people behind it and the pitch. I love events, I love knowing people and having that inside knowledge and access to them and what makes them tick. To "sell" a story, a start-up or a big campaign, you have to have persistence but good ideas and angles to go with them and to think outside the box to get the best outcomes. I love making this happen. One of my team also said to me recently that I love the chase of winning new business. I really do and this what I love about my team.… they are so good about bringing it all to life with passion and professionalism – and their love of powerpoints, presentation and the all essential critical paths!
Q.
What do you tear your hair out about?!
Does every marketing graduate have ingrained in them that they only have XYZ per month for retainer fees? I have been hearing this for 20 years and it absolutely makes me tear my hair out. So you want three people on your account, a showroom, years of experience and contacts, creative ideas and output, weekly reports and KPIs met for the equivalent of a junior burger working in house full time! I think it's the fighter in me that has always had to prove to the world that PR is key and to defend the industry and our value.
Q.
What's your greatest career achievement to date?
Staying in business!! I nearly closed the doors a couple of years ago. I was just burnt out, had a nasty breakup, the industry was turning on its head, too many media mates were losing their jobs and titles were closing (including ones I had launched such as Madison and Men's Style). It wasn't a great time … but there are some really good things happening in the industry right now (Clare Press please stand up!) - and the major players are all still here. Yes, we have all had to change the way we work, but there isn't the panic and knee jerk decisions being made about things the way they were a few years ago. Budgets are tighter but they are for everyone, so we are all on an even keel in that respect.

I've also had the pleasure of working with some of the biggest businesses and campaigns in Australia. Some pinch me moments include seeing the sensational success of qualia since we launched it over 10 years ago; having Oprah wear CAMILLA and see it go ballistic globally; running the Ermenegildo Zegna Australian Wool Awards; and travelling to New York (twice!) with 3 key Australian Editors for the COS x Agnes Martin exhibition to attend a sit down dinner just for international media and VIP guests at the Guggenheim Museum - truly one of my most cherished experiences.
Q.
What's next for you & the business?
Keeping on keeping on. We have some fun projects to start the year with and a huge new client that we will announce in January, so that will set the pace in a big way and take us global.
Q.
If you weren't doing this, what would you be doing?
Sleeping!