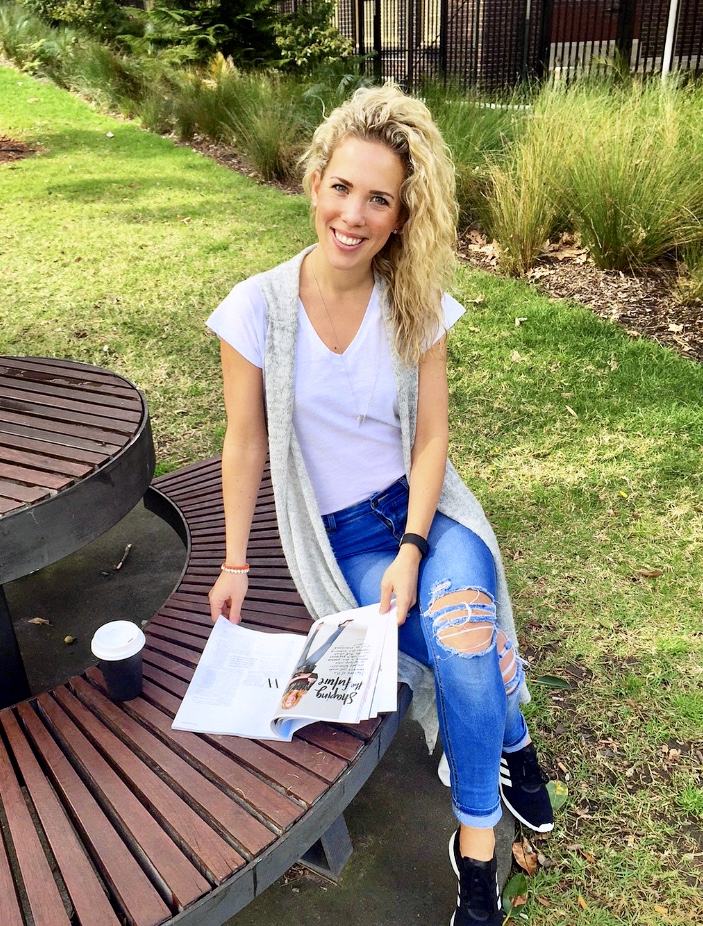 Q.
Describe your journey in a nutshell:
Passionate about the growing power of the public relations & media industry, I founded Straight Up PR in 2013. I realised at the time that there wasn't a PR agency owning the health & wellbeing space & an agency dedicated to this industry was required. I wanted to put my over 10 years of PR experience into my own agency & do things a little differently by way of 'agency life'. With this in mind, we have created an environment that is all about 'work life integration' – because at the end of the day, to be a successful PR consultant you have to be on all the time & it shouldn't really feel like work, you should live & breathe what you do & for it to be a joy always. We are pretty blessed to work with brands & people we genuinely believe in & spread trusted health & wellbeing messages to all Australians.

We also have the talent management side of our business – in 2015 after working with so many health & wellbeing influencers, a need for straight up people management was realised & Straight Up People was born. Here we represent commercially the likes of, Cassey Maynard, Leanne Ward, Joel Feren, Sami Bloom and Vladia Cobrdova.
Q.
What do you think your business and your team excel at:
With our straight up & zealous attitude, we boast formidable relationships, ideas & strategic leadership combined with an infectious energy that can't be taught. Remaining knowledgeable & trustworthy to our clients, media & influencers are key to our success.
Q.
What brands are you currently working with?
We are proud to work with much-loved brands & people of influence in the health, wellbeing & lifestyle industries. Top 3 at the moment include:

1. Currently working with Alka Power on a PR Campaign & also managing their Social Media. They are Australia's first & only true ionic alkaline spring water, with a pH of 9-10 for ultimate hydration, pH balance & optimum health.

2. Just worked on Ocsober & with our appealing list of Ambassadors including Luke Hines, Tegan Martin, Scott Gooding, Maz Compton, Steph Lowe, Zoe Bingley-Pullin, encouraging Australians to lose the booze in October to help Aussie kids – supporting Life Education & Healthy Harold to reach their goal of $500K & continue to empower Aussie kids through their programs.

3. We are pumped to be working with Ulu Hye – who have revolutionised the way we make & enjoy nut milks with their Hemp and Nut Mylk Bases, which are good for you & the environment.
Q.
What's a recent campaign you are super proud of because you either came up with a big creative idea; worked with a minimal budget; or exceeded expectations?
We exceeded expectations for Dental Health Week, a major oral health initiative hosted by the Australian Dental Association (ADA) to raise awareness & promote the importance of oral health. With the theme, Oral Health for Busy Lives, the campaign encouraged Australians to make August the month to visit the dentist & to make their oral health a priority. To communicate the key messages, we used ADA experts & brought on Former Olympian & Radio Personality Libby Trickett as the Ambassador, which added credibility to the campaign.

We created a national & local conversation which gained mass positive awareness about the ADA & Dental Health Week, reaching a range of ages & demographics throughout Australia. As a team we exceeded the media reach for both the 2015 & 2016 Dental Health Week campaigns - with 299 media placements across print, online & broadcast mediums, a reach of over 24 million, 24 influencer engagements reaching a combined audience of over 475,000.

Highlights included a national TV segment on Ch 7 - The Daily Edition, a syndicated newspaper piece in News Corp's body+soul, 175 radio clips & 65 print mentions (across metro & regional media)
Overall, KPIs were exceeded in terms of coverage, reach & PR value & the client was very happy.. and so were we. We are just at the end of our 2018 Dental Health Week campaign and look forward to sharing those results next!
Q.
What are the greatest challenges the industry is currently facing?
I believe we are definitely on the brink of another shift in the PR industry whereby we will have to rethink our approach to campaigns. Many years ago it was all about traditional media, & then there were bloggers, then we moved to social media influencers & now I think it's genuine face to face connections – it's all about our communities, our tribes. This is all thanks to the rise in social consciousness & the realisation that as human beings it is our connections that will make us truly happy.. & for brands.. It's these authentic relationships that will allow our brands to truly shine & be represented genuinely.

The other thing is, we are more educated now on the not so positive impact trawling through social media for hours has on us & how being bombarded with multiple messages isn't always very effective, so we are being encouraged to get out & make real connections & build our offline communities – we are seeing more brands doing this & as a result we are building time into our campaigns to assist the brands we work with to aid them in doing this, acting as the 'connector' for them to brands, people & media.
Q.
What do you love about the industry and your business?
I love that it is always evolving & to be good at what we do we need to be able to be nimble & move quickly – it's important that we don't get stuck in our ways & just do things because that's how we've always done them. I like to challenge me & my teams thinking always. I also believe that our greatest growth comes from getting out of our comfort zones.
Q.
What do you tear your hair out about?!
People who have no social awareness – the number of people we meet who have no idea how to understand & respond to the needs of others blows my mind. Understanding other people's feelings is central to emotional intelligence & I believe this is one of the best skills you can have – get it wrong & you'll be seen as uncaring & insensitive, but get it right & you'll be successful.
Q.
What's your greatest career achievement to date?
Realising that I was unhappy & burning out, & finding the courage to resign & entertain the idea of starting my own business. Little did I know, within the week I'd have my first client & within a few months I would be employing my first staff member Nastasia, who is still with me today & one of our senior consultants.
Q.
And your worst disaster!
We've all been here & you just have to laugh! I sent an email to a very high profile chef who at the time was 'big news,' however I had no idea who he was & thinking I was sending an email internally I said to my colleague "who the F is X"… but had in fact sent this to the chef in question!
Q.
What's next for you & the business?
We are growing & on the hunt for straight talking people to join our team. Because we don't run the agency like traditional PR agencies, & once you prove yourself you have the ability to work from home, parks, cafes – & not necessarily in our office in Manly, then you have to be able to self motivate & manage - & this takes a special type of person. At the end of the day, as long as our clients & staff are happy – then I am happy & you can hustle how you like. I'll be doing my best work from the beach this Summer!
Q.
If you weren't doing this, what would you be doing?
Consulting to other agencies – guiding them in how to run a business with heart & soul.