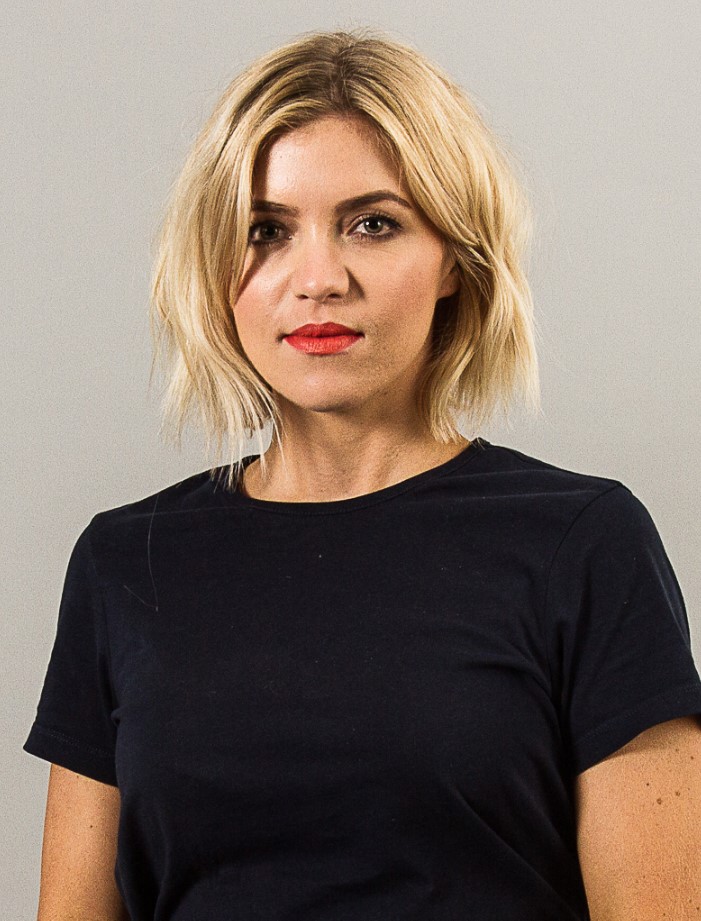 Q.
Describe your journey in a nutshell:
I jumped out of corporate world and into startup land when I took the job at Sling & Stone as employee number eight. Four years on and one wild ride later, we're 50 "Slingers" strong across Australia, New Zealand and the US. While we're now big in numbers, we're still small at heart.

Since the early days we all shared a passion for brands that were doing things differently — shaking up the status quo, changing the future. There weren't any other agencies around purpose-built to work at the speed and agility these brands operated at, so we built one from the ground up. Fortunately, it worked, and we're now lucky to count some of the world's most ambitious brands and entrepreneurs as clients.
Like any startup, especially in the early days you wear lots of hats, and I have certainly done so in my time here. I was privileged to have been given a lot of freedom right from the beginning by our founder Vuki, which brought out the builder in me.

As Head of Consumer & International my role is to lead and grow our amazing team, to work with clients on strategy and creative, and to make sure we're soaking in lots of inspiration and finding smart new ways of doing PR and communications.
Q.
What do you think your business and your team excel at?
We specialise in the kinds of brands we work for, not the work we do. Our team has a distinct ability to dig deep into an industry and turn sometimes complex factors into digestible concepts, to help consumers better understand the future, and show them new ways of doing things.

To be able to do this we look to hire people from diverse backgrounds — people who may not necessarily fit the traditional PR mould. It's essential to have a curious and open mind working with such forward thinking and moving brands.

What I love about our approach is that we're not stuck with one way of doing something, we'll look at a problem and try to find the best way to solve it. That said, we of course provide services across the full spectrum of PR & communications — including creative, media relations, events, stunts, activations, influencer programs, social and content, corporate comms, crisis management and everything in between.
Q.
What brands are you currently working with?
We're excited by brands that are truly having a crack at changing the future — whether its fashion, space, healthcare, entertainment, cities, hospitality, or even workplaces. This year, I'm personally very interested in working with brands doing cool things in health and wellness, sustainability and conscious consumerism, and also the future of food. There's lots of incredible disruption happening around us. We want to be in the thick of it no matter what the industry.
Some of our current clients include Uber and Uber Eats, Twitter, Amazon Prime Video, Nest, Domain, Slack, and I'm very excited about a new neobank we're working with called 86 400. You can see the full list at
www.slingstone.com
.
Q.
What are the greatest challenges the industry is currently facing?
Experienced talent not being looked after in agencies, and seeing their next career move as in-house or out of the industry.

This industry needs fresh young thinking, but it also needs experience. We need to be deliberate about striking that balance.

Rather than being restricted to clawing up the rungs level by level, we see our senior team (and in fact all of our team) as entrepreneurial startup founders, who have the freedom and trust to run at a specialisation they're interested in and build that up — be it an industry, or particular service like creative or social. We see this as key to building and agency fit for the future.
Q.
What do you love about the industry and your business?
Especially in the innovation industry, communications and storytelling has a central role in driving change. I really love this periodic table of disruption which shows you just how much we really are at the start of a new generation (click
here
).
Being part of that change from the very beginning (now), not just in the future, is what gets me out of bed in the morning.
Q.
What do you tear your hair out about?!
When people say media relations is dead. There will always be inches (or pixels) for people with good stories to tell and good PRs to place them. It's just harder to place junk.
Q.
What's your greatest career achievement to date?
I once sat next to Bono at a restaurant in Los Angeles. Wait, that's not a career… ;)

Just kidding. Getting to work with my incredible team and inspirational clients is a daily achievement that I count myself lucky for.
Q.
And your worst disaster!
I'm a big believer in the saying "It's PR, not ER". Sure, shit happens sometimes, but there are much bigger disasters and troubles to worry about in the world than what happens in a PR agency.

We take our work seriously at Sling & Stone but importantly, we don't take ourselves too seriously. We've got no place for drama, ego or politics — we're too busy doing great work!
Q.
What's next for you & the business?
We've just returned from our annual 3-day retreat, "Sling Break", where we cooked up some really exciting plans for the kind of work we want to do, zooming in on insight and impact. As always, we're continuing to grow our team, bring in new talent, diversify our offering, and look for incredible innovators to work with. We have some exciting new launches coming up very soon so stay tuned.
Q.
If you weren't doing this, what would you be doing?
I'd be drinking (or sharing) Kool-Aid somewhere else in startup land! I truly love the innovation and technology space and couldn't see myself doing anything else.