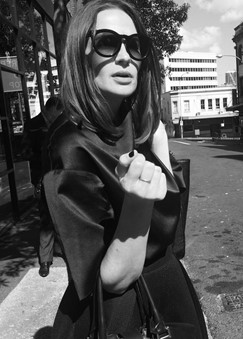 Q.
Describe your journey in a nutshell:
I started doing a day's work experience at what turned out to be my first agency, Torstar, which was a relief from study and retail. I was 20. I was offered a job the next day. I was there for five years and I learned the trade from the ground up, back when we still sent faxes and photocopied editorial.

I'm so glad I did. Everything flows from great preparation. In my time I have worked with some amazing brands and people.

I've put that experience to work in my business, which I launched three years ago. I know what I want, and what I don't.
Q.
Congrats on your new website! Tell us about your new site and the launch?!
It's very simple, but my design aesthetic is "less is more". It's a very clear visual representation of my brand. It's so exciting to see it finally come to life. My friend Abbey Danson has a small web design business and helped my finally get a website happening.

I already need to update it with new clients, which is great! It's also quite nerve-wracking to put yourself and your brand "out there" but I've had only positive feedback. If you want to understand my brand, my business and me, the website does that so I couldn't ask for more.
Q.
What brands are you currently working with?
Loving the collaboration projects with Russell Athletic and EVERLAST, and we've been hosting a series of lunches on behalf of fashion brand The X Cartel which have been beautiful, with some exceptional people around the table.

Australian fashion brand RODEO SHOW have just joined the team and we're excited for all the activity to roll out.

And of course we really enjoying our ongoing work with Canterbury of New Zealand (I do love my time in NZ, drinking pinot noir and eating oysters when I can. The people are just so nice and relaxed!). They're a foundation client and it's been a wonderful collaboration. We've also got a great pipeline ahead (a great thing in business, believe me!), which I'm looking forward to bringing into the stable soon.
Q.
What are the greatest challenges the industry is currently facing?
I think we're piggybacking the challenges faced by mainstream media. As revenue from advertising and readers dries up, because of the rise of digital, there's so very many less people working across media, and they're servicing multiple platforms. That makes getting a good story up more difficult than ever, and more dependant on good relationships and contacts. You're not going to get any attention if your pitch isn't perfect. Media is just too busy these days.

We also face the increasing speed of change in how social media works. There's a new algorithm every week to learn about, which we need to understand before our clients do. There's a new influencer popping up every day who might be perfect for a campaign. We need to know who they are … yesterday.

But I also think that's a wonderful opportunity. Get the right people at an event, or collaborating with a campaign, and you've created a powerful, bespoke platform for your client. The key is being able to pull it off, consistently.
Q.
What do you love about the industry and your business?
I genuinely love the people. We're a type … talkers, gregarious, curious, fun, smart. I also love the hard-core on-the-ground problem solving for clients, from brand refresh to crisis management.

While it's not a glamorous business (and it's PR, not ER), I do love beauty and fashion, so I always love it when I'm working in the category.

There's nothing more exciting than creating an event or piece of content for a client (I'm weird, I love making EDMs, packing and wrapping … you name it I'll do it. And I love it) and see every part work. When that happens, it's magic. I find clients can't get enough of collaborating to a successful result, especially when they get a powerful, instant response online. It's great for business because they want to do it all again!
Q.
What do you tear your hair out about?!
I think there's lots of us who have grafted for over a decade to establish themselves, with genuine businesses and contacts, who look on aghast when someone gets a loan from mum and dad, launches and business and floods the market with PR about themselves. It gives the industry a bad name.

My advice would be if your PR or comms person is in the media more than you … get a new agency.

I also struggle explaining to clients that we can't guarantee media, or what they will say. It's sometimes difficult to explain the power of a real news story versus a paid piece, for example.
Q.
What's your greatest career achievement to date?
I have to say my business, The Grey Consulting. It's my baby, which I know is a cliché but in my case it's very true. To get to this point in three years, my partner points out repeatedly, is amazing and I need to take a moment and realise that. It was also done through some significant personal health issues (endometriosis, hysterectomy), so I'm very proud to have shouldered the load to this point. It's a delight to see some reward.
Q.
And your worst disaster!
Oh, dear … hmmm …

Well I've engaged with some clients I shouldn't have in the past. I'm very careful with who comes on board now. I'm not here to educate on the value of the process, nor debate it. (I will, however, explain it!)

Real disasters have been little weird things like lights reflecting an audience in the eyes from a massive disco ball at a fashion show. There was no audience in rehearsal!

My nightmares are missing couriers, mis-prints, talent going off the rails, ruined borrowed dresses (not me!) … a million small things that were a drama at the time.

Mercifully, I've avoided any real, career altering dramas and plan to continue that way!
Q.
What's next for you & the business?
Finding a perfect office space to grow into, making sure staff are the right people, and we're staffed at the right level, to service our clients well. I don't want to grow either to fast, or get too big.

To have a personal relationship with my clients is critical to my success. I'm very happy to have our professional relationships develop into friendships - that's when the best work happens, in an atmosphere of honesty and trust.

I love to show my clients the value of what we do long-term. The longer we're working together, the better we get at telling our story. I also want to develop projects that benefit a number of our suite of clients, so they can see the value of being with TGC. (Look what's in our event gift bag! How did they get us this venue? Why was this video so cost-effective?)
Q.
If you weren't doing this, what would you be doing?
I'd love to be a florist but you have to get up too early in the morning! Or I'd love to be a perfumer, or a sommelier. I also love teaching and spend some of my time teaching a diploma of Social Media Marketing at ACBI (Australian College Business Intelligence). I love what I learn from my students and I love giving something back to my industry. Hopefully I'm creating people everyone wants to employ, including TGC!