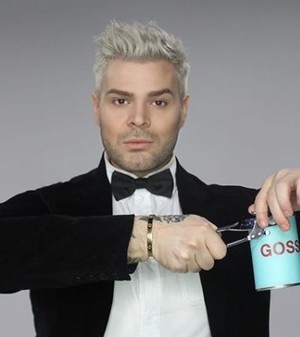 Q.
Give us a snapshot of your career to date and an overview of your current role?
Well, I did meet the man of my dreams at a ball but somehow my glass slipper was a size too big even though my fairy godmother gave it to… oh wait, that's not me, that's Cinderella… MY story goes more like, I've spent the last 13 years working in media, 8 of them spent on red carpets for Scoopla Australia interviewing the biggest celebs. From Angelina Jolie to Zendaya (literally the A to Z). If there's a red carpet you'll see me there. For the past 5 years I've somehow managed to convince people to let me on TV and am currently in your lounge room every Saturday morning as part of The Loop on Channel Eleven as the music goss expert. I once was also slapped on the bum by Hugh Jackman.
Q.
We hear you have a new show that has just started, tell us about it?
I do! You know how you see a lot of interviews with celebs and they are in 'promo mode', but like David Attenborough, we really just want to see them in their natural habitat, right? That's where my new show 'FaceTime with Justin Hill' comes in! Over the years, celebs have given me their numbers (for reasons I will not disclose) and now, I'm giving them a tingle. My new series is nothing like Australia has ever seen really and to be honest, I'm not like all the other entertainment reporters out there. Sure, I'll pin my hair up and slip into something glittery, but sometimes, I just want to have some really good chat in my jimmy jammies with celebs who are also relaxed and in their homes. I mean, it stops me from creeping into their yards and tapping on their windows, so everyone's happy.
But here's the official plug – I talk to Spencer Pratt about 'The Hills' reboot, 'Mean Girls' star Jonathan Bennett about working with Lindsay Lohan and Charlotte Crosby about her desire to talk less about boozing and more about Whales…
Q.
What are you looking for from PRs – and what kind of pitch would get an immediate response?
Please don't ever send me an email that says 'Hey, There'. I get it, you might not know my name but if your email says Hey GURL! Or Hola! Man, you're going to get my attention real quick. The 'Hey There' emails get filed away… in the DELETED folder!
Q.
Do you prefer email or phone pitches, and what is the best time of day/day of the week to catch you?
Let me tell you a story. Someone once called me to chase a pitch at 4pm on a Friday. As I diverted the call through to voicemail, I gave a very lady like spray of expletives about being hassled all day not to mention late on a Friday… to then realise I'd actually pressed the 'answer' button and not the 'send to voicemail' button. I think the person got my message. Email me and make it stand out.
Q.
During your career, what has your experience been like working with PRs?
Just wonderful. It's totally a business relationship and I mean the kind with briefcases and shoulder pads. I get you need me to promote something and you get that I need great content. When this is really clear between us, we can make magic. It's kind of like we're a couple on Love Island. We know there's no way we can be deeply in love the first time we lay eyes on each other over a cocktail while poolside, but we know if we work together, we can get some nightclub appearances out of this at least.
Q.
Do you attend many media events and if so, what kind?
Yes. 8 days a week. I love an opening, a closing, a birthday, a giveaway. I'm going to give a shout out to the people at Halo Top Ice Cream and Pulse Communications (not spon) – they had me at an event recently and the theme was 'happiness'. They had baby lambs, bunnies, puppies, freebies, a very flattering photographer and lots of low calorie Ice Cream. Every good event should include a photo wall, a publicist who knows and welcomes everyone, that general vibe of 'just enjoy yourself guys', a goodie bag and then a follow up email with photos. This will guarantee you a 5-star rating from me!
Q.
What do you love about your job?
That feeling when you're SO tired but SO happy you've just achieved something the ten-year-old you would never have believed you could do in a million years. That sense of proving to my biggest critic (myself) that I CAN actually be all the things I dreamed of being.
Explaining to people how unglamorous it can be. Every person I speak to about getting into this field has kind of a look of horror on their face when I tell them I work nights, weekends as well as producing and editing my own videos. I'm self-trained in Photoshop, Adobe Premiere and Audacity to name a few. Hell, if I need to I can even shoot my own interviews. Upskilling yourself and creating your own opportunity is not something a lot of people like to hear. Neither is working for free. But doing both when you can will get you far.
Q.
Describe a typical day:
6:00am - Wake up. Cry and whinge about going to the gym
6:30am - Go to the gym
7:30am - Finish work out and stress about blow drying my hair
8:00am - Get coffee. Ask for direct drip into vein, settle for regular long black with a dash of milk
9:00am - Start grown up '9 to 5 job' in digital and social media
5:00pm - Get ready for red carpet
6:00pm - Arrive at red carpet and faff around getting a pic for the socials and try to look thin, like I've had a great nights sleep and my skin is naturally this contoured and like my spanx aren't cutting off my air supply
6:01pm - Anxiously wait for celebrity to arrive
7:00pm - Celeb arrives. Have intimate, deep and meaningful yet light and laughter filled conversation about their movie/shoe line/album… all in 90seconds
7:30pm - Finish red carpet
8:00pm - Go home and edit video and audio, sending out to radio stations and digital sites that use my content
9:00pm – Go to bed and watch the Golden Girls… a time when the bigger the shoulder pad, the closer to heaven
Q.
If you weren't doing what you do now… what would you be doing?
Probably working for Roxy Jacenko.
Q.
Your Socials: (Email/Instagram/Twitter)